Screening: "Laughter Against the Machine"
Training Tag(s): Arts & Culture
Starts: Saturday, Jun. 9 7:00 PM (Eastern)
Ends: Saturday, Jun. 9 8:00 PM (Eastern)
W. Kamau Bell, Nato Green and Janine Brito, touring as Laughter Against the Machine, offer a unique kind of comedy where the comedians and the audience expect to be challenged, to laugh, and to think at the same time. It's an issue-oriented, no-holds-bar show with no preconceived expectations, no party lines, and certainly no cheerleading – because they have beef with everybody, including themselves.
Last year Laughter Against the Machine raised enough money from fans via Kickstarter to be able to go out on tour with two documentary filmmakers to some of the most politically charged states in the country, to try and answer the question: "What role does comedy play in the revolution?" In addition to visiting seven of the Occupy Wall Street encampments, they crossed the border in Arizona with immigration rights groups Culturestrike and Puente, marched with striking hotel workers in Chicago, went to a Mosque in Michigan, touched the levee in the lower 9th ward in New Orleans, and hung out with street artists against oil pipelines in DC. All of this in an attempt to educate themselves on the issues they care about and bring some much needed laughter to the front lines.
In addition to stand-up, this show will include previews of clips from the forthcoming documentary and a Q&A with the comedians.
Panelists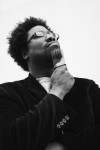 W. Kamau Bell is a founding member of the group Laughter Against the Machine" and co-host of The Field Negro Guide to Arts & Culture podcast. Praised by Punchline Magazine as "one of our nation's most adept racial commentators with a blistering wit," Kamau has been voted SF's best comedian by three different publications. His album, Face Full of Flour, was named one of the iTunes Top 10 Comedy Albums of 2010. His solo show, The W. Kamau Bell Curve: Ending Racism in About an Hour was a pick in The Guardian during the 2011 Edinburgh Fringe Festival. Time Out NY gives him "FOUR STARS" and offers, "Bell finds comic gold…offering provocative insights into an ugly reality." This summer, Kamau will star in "Totally Biased with W. Kamau Bell," his own series on the FX Network, produced by Chris Rock. Kamau is a board member of the Applied Research Center.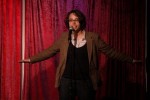 A rising star in the alternative comedy scene, JANINE BRITO is the winner of the 2009 SF Women's Comedy Competition and the Rooftop Comedy 2010 Silver Nail Award. Praised by 7×7 Magazine as "one of SF's more daring voices" and one of "the 7 funniest people in town," she was named the 2011 "Best Comedian with a Message" by the East Bay Express. Along with comics W. Kamau Bell and Nato Green, Janine is part of Laughter Against the Machine, a comedy tour to America's most volatile political hotspots. Her 2012 comedy festival appearances include Sketchfest in SF, the Women in Comedy Festival in Boston, Bridgetown Comedy Festival in Portland, OR and the Glasgow International Comedy Festival. A sarcastic, snarky smart bomb of comedy funk straight from the 80's, the SF Weekly called her "a mean lesbian." But she's pretty sure that they meant it in a good way.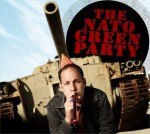 NATO GREEN was summed up by The East Bay Express as, "erudite and acerbic, a San Francisco-raised father, union organizer, gastronome, bibliophile, and political sparkplug." He tours with W. Kamau Bell & Janine Brito as Laughter Against the Machine, the guerrilla stand-up comedy tour, like Doctors Without Borders with jokes. He was named SF Weekly's Best Comedian of 2010 and got his own cover story in 2011 for getting "smarter and faster" and putting on "legendary" shows. Nato is the creator of Iron Comic, the Iron Chef-spoofing comedy game show he often co-hosts with Moshe Kasher. Daniel Handler, aka Lemony Snicket, said Nato is, "Righteous and hilarious, bracing and a hoot, Nato Green is like finding a shot of bourbon at your co-worker's stupid vegan potluck."
Nato's debut comedy CD, "The Nato Green Party," will be released June 5 by Rooftop Comedy.
Other sessions: Laughing Liberally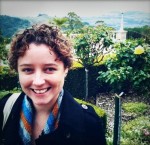 Keri Smith Esguia is a co-founder of Whitesmith Entertainment, a comedy and music management firm based in Los Angeles and New York. As head of the comedy department at Whitesmith Entertainment, she manages the careers of some of the nation's brightest up-and-coming comedians, including Kevin Avery, W. Kamau Bell, Sara Benincasa, Janine Brito, and the political comedy group, Laughter Against the Machine. Her production credits include the films Margaret Cho: Beautiful, Cho Dependent, Thugs, The Musical and the forthcoming Laughter Against the Machine tour documentary. She is also an executive producer of the new FX series, Totally Biased with W. Kamau Bell, premiering this August. Keri is a member of the advisory board of WAM! (Women, Action and the Media).