Occupy Goes Home: The Occupy Movement and the Foreclosure Crisis
Session Type(s): Panel
Training Tag(s): Economy, OWS
Starts: Thursday, Jun. 7 3:00 PM (Eastern)
Ends: Thursday, Jun. 7 4:15 PM (Eastern)
The Occupy movement has been taking homes throughout the year and plans to continue throughout the summer. What does this campaign contribute to larger progressive goals? Should the progressive movement support this work?

Occupy Goes Home: The Occupy Movement and the Foreclosure Crisis
Miss this panel? No problem! Here's what happened.
Storified by Netroots Nation · Thu, Jun 07 2012 16:17:44
The panelists described out the scope of the crisis.
.@sarahljaffe doing a good job of moderating foreclosure and occupy homes panel #NN12 http://pic.twitter.com/i6fEkEPHBill
Study in San Francisco showed 84% of #foreclosure claims fraudulent – @CGoHome; 90% in NYC says @sarahljaffe. #occupyourhomes #nn12 #owsJoe Macare
They also discussed the response from banks…
The banks are breaking hundreds of years of property law- paraphrasing @mbrownerhamlin #occupyhomes #NN12Elana_Brooklyn
Excellent point from @sarahljaffe – bankers took bailouts without shame, but homeowners are supposed to feel ashamed of getting help?Robert Cruickshank
.@CGoHome: "Banks will modify a loan to sell a house at what it's worth at a short sale, but not to keep a family in its home." #nn12Travis Waldron
…from the legal community…
Says @mbrownerhamlin Fraudulent foreclosures: where are Bar Assocs holding lawyers accountable who allow & draft robosigned documents? #NN12paulhogarth
…and from policy makers.
.@mbrownerhamlin: In face of massive human & legal crisis that is foreclosure response from lawmakers & regulators "has been nothing" #nn12Travis Waldron
.@mbrownerhamlin: In every situation where policymakers had choice between helping homeowners & the banks, they chose the banks. #nn12Travis Waldron
Says @mbrownerhamlin Instead of bailing out banks, we could have used that money to pay off every subprime mortgage in America. #NN12paulhogarth
The panelists talked about what we can do in the face of this massive crisis.
RT @exileinflyville: .@mbrownerhamlin talks about importance of promoting writing that explains terminology used by banks to obfuscate, e.g. @rortybomb. #nn12Vincent Vecchione
@mbrownerhamlin on #ffraud task force: not pressuring is not going to work #nn12David Dayen
If a bank can steal a home w/o consequence then they will do it again. Not speaking out won't change it @mbrownerhamlin #nn12Elana_Brooklyn
Online community needs to keep driving convo about florclosures bc it's not even a subject in politics right now. @mbrownerhamlin #nn12Rania Khalek
.@CGoHome talking collaboration w. labor & community groups in Minnesota. This really is 1 big conversation today! #occupyhomesMN #nn12 #owsJoe Macare
"We need to create our own media and educate people about our relationship to land", says @humanright2home #nn12 #occupyhomesRania Khalek
we have to avoid issue silos. We have to talk about how issues like jobs, housing, etc, are connected. @humanright2home #nn12 #occupyhomesRania Khalek
Attendees responded to the panel with strong emotions.
@sarahljaffe wearing carre rouge (red sq) for Quebec at #NN12 panel on #occupy homes. Pretty awesome.Samuel G. Howard
Nick and Colleen's video from @Occupyhomesmn has my whole row in tears. Link please?#nn12 @sarahljaffe @mbrownerhamlin #occupyhomesDoug Foote
This #occupyhomes panel is absolutely incredible. I'm emotionally fried just listening. #nn12 @sarahljaffe @mbrownerhamlinDoug Foote
Moderator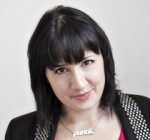 Sarah Jaffe is Labor editor at AlterNet.org and has been covering the Occupy movement since the beginning. She's written for The Nation, the American Prospect, Truthout, Bitch, and many other publications. Before coming to AlterNet, she was Web Director for GRITtv with Laura Flanders.
Panelists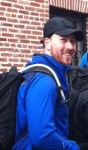 Matt Browner Hamlin is an strategist, organizer, and writer residing in Washington DC. He currently is a Senior Economic Strategist at Citizen Engagement Lab and the founder of OccupyOurHomes.org. He has previously worked in the labor movement, electoral politics, and the Tibetan Independence movement. He blogs at numerous sites on the economy, movement building, politics, mixology, travel, and fitness.
Other sessions: The Heart of the Beast: How the Grassroots is Taking on Big Banking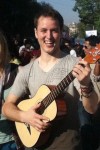 Nick helped launch the Occupy Homes movement and led a successful campaign to save his family's home from foreclosure. At age 15 he watched as his father, an Ecuadorian immigrant, was suddenly deported, an experience that would shape his activism. He made international news after he started the "glitterbomb" trend by dumping glitter on Newt Gingrich for his anti-equality politics.
Rachel Falcone is a NY-based multimedia producer, educator and cultural organizer. She is Co-Creator and Co-Director of the transmedia storytelling project Housing is a Human Right, which collaborates with communities, organizations and individuals to share stories of their ongoing experiences trying to obtain or maintain a place to call home. She is also a leader with Organizing for Occupation (O4O), a group which actualizes the human right to housing through direct action. Rachel has worked with EarSay, Inc., None On Record and the award-winning national oral history project StoryCorps. Her independent radio documentaries and multimedia have been broadcast internationally, and shared through interactive installations in partnership with The Laundromat Project, MoCADA, SUPERFRONT Gallery, Adriala Gallery, Chashama Studios, the New Museum, MAPP International Productions, Asian Arts Initiative, Occupy the Empty Space and NPN/VAN, among others.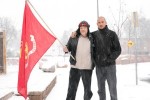 "Anthony Newby is a North Minneapolis community organizer and social change advocate currently working with Neighborhoods Organizing for Change. A longtime Real Estate entrepreneur, his inside perspective on the Bank and financial world has helped in the unique success of Occupy Homes MN. Anthony also has extensive experience in disaster relief, having helped to create a highly touted social media platform to deliver aid in the wake of a tornado that devastated Minneapolis' most undeserved neighborhood in 2011. His desire to place a solid focus on the human component of the financial crisis has helped make the Homes work in Minnesota one of the most compelling organizational models in the country."