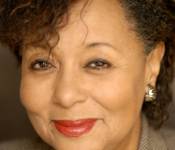 Carol Jenkins is an award-winning writer, producer and media consultant. She is a sought-after speaker and writer on issues relating to the media, specifically the participation of women and people of color; women's participation in the political and economic structures in the US; and the health of women in developing countries, particularly on the African continent.
An Emmy-winning former television journalist, she was founding president and board member of The Women's Media Center, the groundbreaking non-profit aimed at increasing coverage and participation of women in the media.
Her distinguished journalism career includes anchoring the evening news for WNBC-TV, hosting her own daily talk show, Carol Jenkins Live, and covering presidential and mayoral politics. Her award winning international reporting included the release of Nelson Mandela from prison in South Africa.
Netroots Nation participation