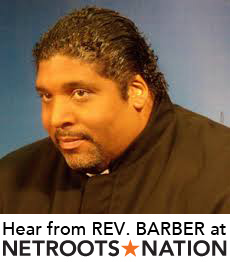 We're excited to welcome Rev. William Barber, the fiery preacher behind North Carolina's Moral Mondays movement, to Netroots Nation this summer.
Rev. Barber will speak to attendees—-and help set the tone for Netroots Nation—-at Thursday night's opening plenary session.
If you haven't gotten your ticket, click here to register now.
Moral Mondays started as a protest to the conservative takeover of state politics but has quickly grown into a grassroots social justice movement that's reaching far beyond just North Carolina. A recent piece in Mother Jones says Rev. Barber is "charting a new path for protesting Republican overreach in the South—-and maybe beyond."
With conservative overreach happening in states across the country, having Rev. Barber speak couldn't come at a better time.
Other speakers include Sen. Elizabeth Warren, Gov. Howard Dean and more to be announced soon. Attendees will have access to 80 panels, 40 hands-on training sessions, film screenings and tons of fun networking events.
I hope you're making plans to join us (and Rev. Barber) in Detroit!
We'll see you in July.