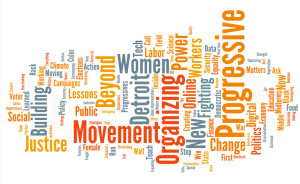 After six weeks of reading and scoring almost 400(!) panel submissions, we're proud to announce the 80 chosen to be presented at Netroots Nation this summer. Thank you to everyone who submitted an idea; this year garnered the strongest, most diverse group of submissions ever.
Our 2014 agenda includes a strong lineup of panels on economic issues, particularly around fighting against corporate influence and for more progressive, populist policies that help the middle class. We also have lots of content on the upcoming election cycle, as well as 2016, and lots more.
People come to Netroots Nation each year to hear about the next big issue or idea. This year's agenda includes panels focused on the most current fights (for example, Religious Exemptions: The Next Frontier for Progressive Battles), sessions highlighting new progressive ideas (A Public Option for Simple Banking for Underserved Communities), and several discussions on cutting-edge campaigning.
We'll be covering issues ranging from student debt to immigration, as well as topics not often discussed broadly in the progressive movement, including these panels:
Solutions Not Suspensions: This is How We Close the School-to-Prison Pipeline
Marijuana Arrests: The Gateway to Mass Incarceration
TransMilitary: The Path to Full Equality in the US Military
We'll also be featuring some important movement-related discussions that you won't find anywhere else, like these four sessions:
Black Feminism's New Wave
Analyzing Ourselves: New Research on the Experience of Working in Politics
Bro-Choice? Where Do Men Fit in the Reproductive Justice Movement?
Try this at Home! Tips and Lessons for Building a Racially Diverse Movement
And as always, we have some great local panels that cover critical issues in the state like the emergency manager situation and the corporate takeover of schools. We will also highlight the good work happening in Detroit, as well as tell the stories of visionary activists doing groundbreaking work in Detroit.
Click here to see all 80 of our panels for Netroots Nation 2014.

Speaker Diversity
As with our training program, we set two main goals for the panel selection process: 1) that we would have more women panelists than last year, and 2) that the ethnic representation across the board would be more representative this year. We also wanted to try to encourage more first-time submitters this year than ever before.
Forty-two percent of our accepted panels came from first-time submitters. We hope this results in more new voices being elevated both in the movement and in the media coverage of Netroots Nation.
Last year was the first year we featured more women panelists than men. We were able to increase that number by another 5% this year. Of the 80 panels accepted, 61% of panelists and panel moderators are women, helping us with our ongoing goal of pushing the importance of women's voices being heard.
In 2013, 47% of our panelists/moderators were people of color. That number went up six percent this year: 53% of our speakers this year are people of color. The number of African American panelists/moderators went up 13 percent, from 16% in 2013 to 29% this year.
The gender and ethnicity breakdowns for our 2014 panelists are below: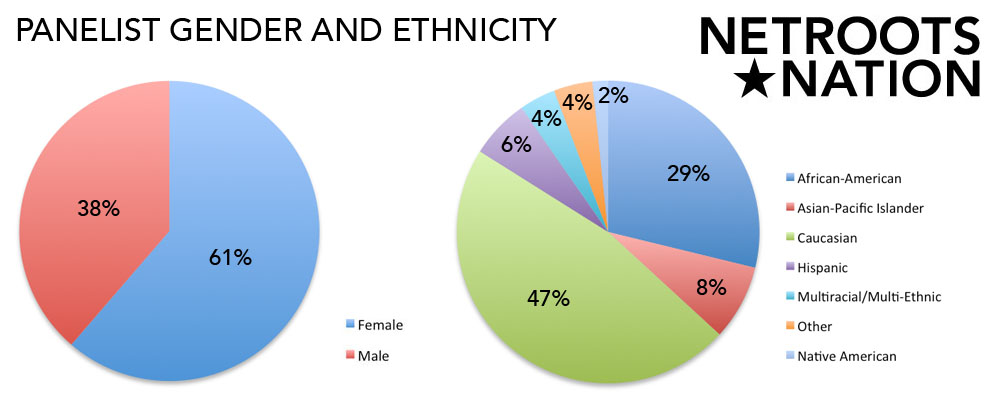 We'll continue to build on those numbers each year. Thank you to all who submitted trainings for consideration!