Vote Run Lead's 90 Days of Action
Session Type(s): Training, Virtual Only Session, Streamed Session
Training Tag(s): Grassroots Organizing/Campaigns
Starts: Wednesday, Jun. 28 1:00 PM (Central)
Ends: Wednesday, Jun. 28 2:00 PM (Central)
Room: Virtual
If you're seeking an accessible way to prepare to run for office (and win!), 90 Days of Action offers a proven curriculum that has empowered thousands of women to earn seats in their state legislatures or other roles in government. Vote Run Lead's signature training outlines 30 specific political actions you can accomplish within just 90 days to: improve your general knowledge of the political ecosystem; reach a better understanding of your specific political community; accelerate growing your political networks; and gain the confidence you need to commit to campaigning (and winning!). This course is a perfect starting point for women just beginning their political journey or already taking their first steps toward a seat in the statehouse.
Moderators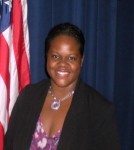 Lea is an award-winning activist who has successfully bridged the gap between the community and government agencies to bring about positive and lasting change in her community. Her greatest achievement includes being elected as the first–and youngest–African-American representative in the Binghamton City Council. She has 15 years of experience as a Community Organizer leading efforts on various social and environmental justice issues; quality education, health care, access to fresh foods and sustainable jobs.
She is the Coordinator of the UDiversity Educational Institute at Binghamton University. This Institute develops and provides diversity and inclusion trainings and programs for faculty, staff, and students at Binghamton University. Through her consulting firm she is working with non-profits and businesses in creating culturally responsive organizations. She is a National Trainer with Vote Run Lead training women on how to run for elected office and Co-Chair/Co-Founder of the Black Millennial Political Convention. She was recognized as one of tomorrow's leaders by Oprah magazine and the White House Project, and was honored with the President's Award by the Broome-Tioga Branch of the NAACP for her significant contributions to her community.