Tech and Policing: Organizing to Stop ShotSpotter
Session Type(s): Panel, Streamed Session
Starts: Thursday, Jul. 13 4:00 PM (Central)
Ends: Thursday, Jul. 13 5:00 PM (Central)
Room: Continental A
Police partnerships with tech companies offering faulty solutions to gun violence are expanding across the country. ShotSpotter tech aims to reduce gun violence while surveilling overwhelmingly Black and brown communities with microphones. With over 120 contracts in the U.S., ShotSpotter suffered a huge blow when Chicago coalition members successfully placed ending the ShotSpotter contract onto the platform of mayor-elect Brandon Johnson, leading to a 22% drop in the company's stock and a sudden rebranding as "SoundThinking." The Stop ShotSpotter coalition was formed to bring together local and national groups to support organizing efforts through FOIAs, communications tools, research, and digital organizing. Over 20,000 people have signed a petition demanding that ShotSpotter be removed from our communities. Join us for a conversation about what's next for eliminating this threat.
Moderator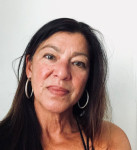 A comms person turned campaigner, Granate Kim is the Campaigns Director at MPower Change, a Muslim, digital-first, movement-building organization fighting for a future free from Islamophobia and white supremacy. MPower Change sees the work to stop ShotSpotter and other police surveillance tech as a continuation of Muslim organizing against state surveillance.
Panelists
Alyx is currently organizing with BYP100 Chicago, a senior organizer and researcher at Action Center on Race and the Economy, and a co-founder and writer with LEFT OUT Magazine. Her writing and activism are centered around the momentum and challenges of building Black power and self-determination. Her work at ACRE currently focuses on the relationship between the finance industry and policing, racialized capitalism, and how these things exacerbate oppressions.