Session Type(s): Training
Training Tag(s): Intermediate Online Organizing
Starts: Friday, Jul. 14 1:30 PM (Central)
Ends: Friday, Jul. 14 2:30 PM (Central)
Room: Williford A
Deliverability is the most important facet of any email program. You can have the smartest strategy, the most impactful creative and the most compelling ask; but none of that will matter if your email goes straight into the spam folder. But having a strong email sender reputation is harder than ever, especially with spam filtration becoming more rigorous, strenuous and algorithmic. How do you build and maintain a strong email sender reputation? How even is sender reputation determined? Does your CRM matter? Does your sender domain? What are some proven strategies to make sure your most impactful emails get to where they're needed when they need to get there? This training will answer all of those questions—and more.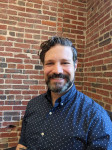 Damien Shirley (he/his) is Email Director at Middle Seat Consulting.
Damien has been working in the digital political space for a decade and a half. He has managed award-winning, record-breaking email programs that have raised tens of millions of dollars for political campaigns (including presidential, senatorial, congressional, and gubernatorial bids), political organizations, issue advocacy groups, and nonprofits.
Damien has helped lead digital programs for People for the American Way, League of Conservation Voters, EMILY's List, NARAL, NextGen America, AOC, John Fetterman, Jamaal Bowman, Katie Porter, Cori Bush, Maura Healey, Summer Lee, and other leading progressive groups and candidates.