Someone Always Calls the Cops: When Karen or Chad Dials 911 on Your Canvassers
Session Type(s): Training
Training Tag(s): Grassroots Organizing/Campaigns
Starts: Saturday, Jul. 15 3:45 PM (Central)
Ends: Saturday, Jul. 15 4:45 PM (Central)
Room: Waldorf
Canvassing is protected First Amendment free speech, but that doesn't stop residents from calling the cops on your team for canvassing while Black or Brown. And, unfortunately, it doesn't usually stop the cops either. In this session, we'll share three steps to support canvassers and keep the campaign strong and safe, without reverting to savior mode.
Trainers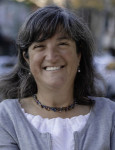 Mira is an organizing and political strategy consultant with a thirty-year history in campaigns. She's directed successful organizing and mobilization campaigns with feminist activists, union members, teachers and gun violence prevention activists. She's also directed regional field operations for two statewide ballot measures and many candidate campaigns.
She designed and facilitated organizing education programs for each campaign, ranging from a week-long deep dive into organizing tactics to short 15 minute drills to help canvassers move undecided voters.
Mira conceives of campaigns and training through the lenses of diversity, equity and inclusion, recognizing the wide variety of experiences that organizers and activists bring to the work. Her guiding principle is that we learn white supremacy culture and must actively work to disrupt it.