Solidarity Across Differences: Organizing When We Disagree
Session Type(s): Training
Training Tag(s): Grassroots Organizing/Campaigns
Starts: Thursday, Jul. 13 4:00 PM (Central)
Ends: Thursday, Jul. 13 5:00 PM (Central)
Room: Waldorf
In 2022, Maurice Mitchell of Working Families Party wrote a piece entitled "Building Resilient Organizations." It highlighted several challenges in progressive movements, including "a righteous refusal to engage with people who do not already share our views and values." Many progressives agree that this is a problem—we need broader movements to win, after all—but how to engage with people outside of our core base while still fighting for the future we want can feel elusive. In this training, participants will gain practical skills for having tough conversations and broadening progressive movements. We will explore the strategic importance of this issue and create space for participants to practice new skills in real-time.
Trainers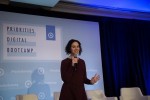 Elyssa Feder is the Executive Director of Rising Organizers and Rising Organizers Action. She has over a decade of experience as an organizer and trainer, and has held roles as the Training Director for EMILY's List and Deputy Training Director at Priorities USA, the largest Democratic Super PAC. While at EMILY's List, she created multiple new training programs, including the Ignite Change Fellowship, which trains women from underrepresented communities to increase their presence in political office and grow the pipeline of candidates of color. She co-founded Rising Organizers in 2016 to provide core grassroots organizing skills to emerging activists and organizers. The organization has since gone on to train 3,000 individuals and hold ten intensive community organizing fellowships, with alumni now organizing in states across the country. In 2020, Elyssa was recognized for her work by being named one of Washingtonian Magazine's 40 Women Under 40.
Harita is a co-director of Rising Organizer's Community Organizing fellowship, a program that teaches new and emerging leaders how to organize their communities. She works as the Communications and Outreach Coordinator for Hindus for Human Rights, a US-based progressive Hindu group working to combat Hindu nationalism, caste-based discrimination, and human rights violations in India and in the diaspora. She is also currently a Master's candidate at George Washington University where she studies Media and Strategic Political Communication.