Ready, Set, Run for Something!
Session Type(s): Special Event
Starts: Wednesday, Jul. 12 5:00 PM (Central)
Ends: Wednesday, Jul. 12 7:30 PM (Central)
Room: Waldorf
Run for Something recruits and supports passionate, diverse, young progressives running for local office.
We've changed the national conversation around seeking public office.
We recruit passionate problem-solving young people to run for state and local elected offices like school board, city council, and state legislature, which results in better policy right away and a better pipeline of federal and statewide candidates in the future.
We support them with training, mentorship, resources, endorsements, and with a strong community of other candidates.
Come and learn about what it takes to run for office, how to get started, and how Run for Something can help!
This event is open to anyone who wants to learn more about running for local office. Netroots Nation attendance is not required, but you do need to RSVP. Click here to reserve your spot for this free training.
Moderators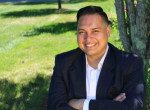 Originally a So. Cal Native, Manny Espitia started working on campaigns in 2012 in New Mexico for President Obama's reelection. Since then he's worked on campaigns in LA, Chicago, and San Antonio until he found his home in Nashua, New Hampshire. He was an organizer for Hillary Clinton's NH Primary campaign, a congressional staffer, and the NH State Director for Julián Castro. Now, Manny serves as the Northern Regional Director for Run for Something. He also ran for office himself and served as a State Representative for 2 terms from 2019-2022. He served as the Democratic Floor Leader in his second term. Manny enjoys enchiladas, long walks on the beach with his wife and dog, and electing the next generation of Latino leaders.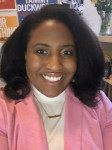 Kandice is an experienced political organizer with a background in movement politics, legislative advocacy, fundraising, voter mobilization, and political consulting. She currently serves as the Midwestern Pod Director for Run for Something, a progressive political action committee that helps young Democrats run for state and local offices. She manages a team of several staffers and leads candidate support and partnership programming for the Midwest. During her career, Kandice has also worked on state wide campaigns throughout the midwest as well as multiple local campaigns in the areas field, GOTV, and fundraising. Kandice is a firm believer in the power of grassroots and community driven campaigns and is passionate about empowering diverse voter bases and promoting women of color in campaign leadership.
Kandice has lived and worked in Chicago since 2012 and is originally from Mobile, AL. She is a proud graduate of The University of Alabama and Loyola University Chicago School of Law.
Michelle has served as campaign manager, senior advisor, finance director, and political organizer on campaigns of all levels of government – city council, state senate, mayoral, congressional, statewide – in Minnesota, Kansas, and Washington State. Prior to joining Run for Something, she served as District Director for Congresswoman Lauren Underwood in IL-14. Some of the most gratifying and exciting work she's done has been supporting first (or second or third) time BIPOC, women, and millennial candidates as they build their campaign infrastructure and navigate the incredibly exciting, but critical, first weeks and months of their run for public office. Ask her about her therapy dog and occasional foster dogs!