Progress at the Ballot Box: Why Progressives Should Back Ranked Choice Voting
Session Type(s): Panel
Starts: Friday, Jul. 14 2:45 PM (Central)
Ends: Friday, Jul. 14 3:45 PM (Central)
Room: Salon A-3
Ranked Choice Voting has exploded in popularity over the last few years, with over 62 U.S. jurisdictions currently using it and likely many more in coming years. This panel brings together local, national and international political and advocacy voices to explore why it's time for the progressive movement to throw themselves firmly behind this reform. We'll explore how Ranked Choice Voting helps women and minorities get elected, increases the power of advocacy organizations, encourages forward thinking policy, depolarizes politics and encourages coalition building, breaks the power of corporate lobbyists and authoritarian candidates, and encourages voter turnout by giving voters a real choice at the ballot box.
Moderator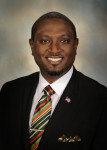 State Representative Maurice West is serving his third term representing the 67th House District in the Rockford region. A Rockford native, Rep. West is a member of Speaker Emanuel "Chris" Welch's leadership team serving as Assistant Floor Whip in the 103rd General Assembly.
He also serves as Chair of the Ethics and Elections Committee in the House of Representatives.
Maurice is an ordained minister and award-winning music composer and founder of TheWESTMelodies.com. He is married to Leslie and they have a daughter.
Panelists
As a Senior Policy Analyst at FairVote, Rachel conducts research and analysis about ranked choice voting and proportional representation. Previously a Fellow at the Institute for Political Innovation, she is an experienced researcher, writer, and policy expert in the electoral reform space. Rachel uses theory and scholarship to bolster democracy reforms and accelerate campaigns.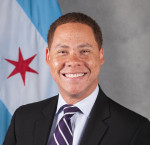 Matt Martin is serving his second term as alderman of Chicago's 47th Ward. He lives in Lincoln Square with his wife Katelyn, eight-year-old son Isaac, and three-year-old daughter Ameena. Prior to being elected alderman, Matt worked as a civil rights lawyer at the Illinois Attorney General's Office, where he focused on important issues including police reform, immigration, healthcare, and worker's rights.
Matt earned bachelor's degrees in Jazz Studies and Political Science from Northwestern University, and his juris doctorate from Harvard Law School.
As alderman, he believes it is critical to be independent, transparent, and willing to take on big challenges like maintaining and expanding affordability, fully funding our public schools, and addressing community violence.