Mobilizing the Midwest Ahead of 2024
Session Type(s): Panel
Starts: Friday, Jul. 14 1:30 PM (Central)
Ends: Friday, Jul. 14 2:30 PM (Central)
Room: Salon A-5
The 2024 presidential election is rapidly approaching, and mobilizing Black and Brown voters, including poor, immigrant and working-class communities, is critical to ensure their voices are heard. The Midwest significantly impacts the election, and efforts must be made to ensure high voter turnout. Using case studies from the Midwest (Detroit, Chicago, Milwaukee and rural Ohio), organizers who accomplished wins during the midterms speak about the importance of organizing young people and organizing in the Midwest, as well as thoughts/plans to solidify wins for 2024. This panel brings together experts and activists from four organizations to discuss mobilizing Black and Brown voters in the Midwest.
Moderator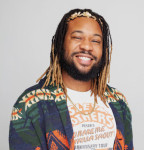 Anthony Baber is the Director of Communications & Culture for Detroit Action. He is a storyteller, a lover of cats, and a devoted culture worker. Having grown up in Michigan, Anthony developed a strong sense of community and realized the importance of uplifting those without a voice. After college, he moved to Seoul, South Korea, initially to teach English as a second language, then eventually hosting a music show for a local radio station. Since returning to Michigan in 2019, Anthony has turned his focus to organizing and empowering local Black & Brown communities with an emphasis on collaboration and the arts. His experiences, both at home and abroad, have informed his perspective as an organizer, centering deep relationship-building, equitable practices, and joy.
Panelists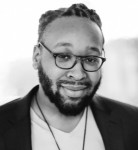 Prentiss Haney is the Co-Executive Director of the OOC. He is a veteran community organizer and strategist whose work has been featured in media outlets including The New York Times, The Atlantic, The Guardian, and MSNBC. In 2019, Prentiss stepped into leadership at the OOC after previously serving as the Executive Director of the Ohio Student Association.
Prentiss started organizing with Organizing for America, registering students and building campus teams across the state. He then joined the Ohio Student Association to continue building student power, serving in various capacities from training coordinator to regional team lead, communication director and more.
Prentiss has trained thousands of leaders in grassroots organizing, leading racial justice, criminal justice and higher education campaigns across the state. In 2017, he co-founded the Midwest Culture Lab as an urgent political intervention needed to center and support young artists of color as trusted communicators, organizers and cultural strategists with the intent of increasing youth civic participation during elections. He is a 2018 graduate of Rockwood Leadership Institute and 2019 Transforming Justice Fellow with the Ohio Transformation Fund.
Prentiss has earned his B.A. in urban affairs at Wright State University. He currently lives in Cincinnati.
Other sessions: Revealing the Digitally Invisibilized: Discussing Bias and Offering Solutions