Immigration is a Black Issue, a Gender Issue and a Social Justice Issue
Session Type(s): Panel
Starts: Saturday, Jul. 15 9:00 AM (Central)
Ends: Saturday, Jul. 15 10:00 AM (Central)
Room: Salon C-3/4
This panel brings together diverse, Black leadership working in the field of immigration to call on the progressive movement to see immigration as a Black issue, a gender issue and a social justice issue. The progressive world reacted in horror to the images in Del Rio, Texas in September 2021 as U.S. agents on horseback threatened and menaced people from Haiti seeking refuge at the U.S. Southern border. This panel will connect that moment to the history of anti-Black racism within the US immigration systems, highlight the contributions of Black immigrants and their families in the U.S., and demonstrate how seeing justice in immigration alongside other progressive-justice priorities will strengthen the progressive movement.
Moderator
Panelists
Patrice Lawrence is the recently appointed Co-Director for the UndocuBlack Network.
Patrice leads the work of those who Black, currently or formerly undocumented and are steadily leading the charge on what they need to thrive by making their demands clear on a local and national level. Her work includes asserting power in issues like Liberian DED, TPS, Dream, Diversity Visas, Decriminalization and fighting against the attacks on the health of immigrants. Originally from Jamaica, Patrice is a graduate of Hollins University and firmly believes that the sum of one's experiences makes them whole regardless of their immigration status.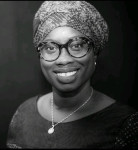 Award-winning social justice advocates Seydi Sarr is a curator of equitable practices through lived experiences. A Senegalese native, she is Helmswomxn at the African Bureau for Immigration & Social Affairs & co-founder of the Black Immigrant Bail Fund. Seydi is a Michigan State commissioner in her current term with the Black Leadership Advisory Council (BLAC). Her passion for social equity drives her commitment to advocacy at the intersections of racial, immigration, socio-economy, religious, and gender issues. Seydi curates the vision of a multicultural, multifaceted society built on acknowledgment, understanding, courage, transformation, and service.
Seydi is a court interpreter, an alumna of Detroit Equity Action Lab, Michigan Political Leadership Program, and New American Leaders.