How to Organize Online (Even if You Don't Want to)—and Win
Session Type(s): Training
Training Tag(s): Intermediate Online Organizing
Starts: Saturday, Jul. 15 2:30 PM (Central)
Ends: Saturday, Jul. 15 3:30 PM (Central)
Room: Waldorf
In 2020, every facet of U.S. life changed and organizers were forced to take their offline efforts online. Three years later, where have things landed? In this session we'll follow the work of ACCE-LA (The Alliance of Californians for Community Empowerment–Los Angeles), a grassroots organization that was forced to go digital in 2020. Despite all odds, they tripled their membership, elected their people into office and won a city-wide eviction moratorium. This case study will trace the journey this member-led organization took from in-person, direct actions to flooding public comment spaces on Zoom, organizing communities on WhatsApp, and creating digital spaces that support real relationships and wield enough force to move decision-makers.
Trainers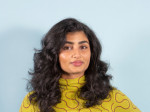 Shireen is an artist, organizer, and strategist that has organized at the intersections of racial justice and reproductive justice for over a decade. She also worked in the climate justice movement, where she co-led the digital strategy for the 2019 Climate Strikes which brought nearly 7.6 million people out to the streets.
Shireen's work at Kairos currently focuses on power building in Black and brown communities and building democracy and accountability into tech platforms. She lives in Duwamish land called Seattle, Washington with her dog, Ruhi, and her refrigerator.