Session Type(s): Training, Professional Development Training
Training Tag(s): Operations
Starts: Thursday, Jul. 13 9:00 AM (Central)
Ends: Thursday, Jul. 13 10:15 AM (Central)
Room: PDR #2
Movement building is hard work. It often requires extended sprinting, context-switching and heavy lifting. Being effective in our work requires us to dig deeply into issues that take an emotional toll. So how do we care for ourselves without lessening our commitment and our impact? How do we accomplish our goals without perpetuating grind culture? How do we do what it takes to build a more equitable society in the future without compromising on our commitment to equitable practices in the present? In this training, we'll debunk the false choice between effective organizing and sustainability, confront common scenarios where this tension is present and cover practical tips for setting boundaries and caring for yourself as you organize.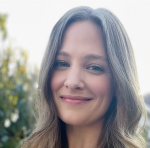 Kate Catherall is the Founder and Principal of Slow Clap. Passionate about building capacity for progressive causes, Kate Catherall brings over 15 years of leadership experience in public engagement, advocacy, and electoral politics.
Most recently, Kate served as Chief Engagement Officer at Avalanche Insights, where her team led survey research and guided narrative development for national organizations on a range of key issues including clean energy, reproductive freedom, gun violence, gender equity, and affordable housing.
Kate is the Co-founder and formerly Senior Partner of Arena, an organization that convenes, trains, and supports the next generation of progressive candidates and political professionals. She now serves the organization as Board Chair, and continues to train at Arena Academies. Since 2017, Arena has helped to elect 61 candidates to Congress, state, and local offices, and has trained more than 2300 campaign professionals through Arena Academy. Arena is focused on supporting a more diverse leadership pipeline: 59% of Arena Academy graduates are women, and 53% are people of color.
Prior to founding Arena, Kate was a Senior Vice President at 270 Strategies, where she consulted on public engagement strategy, behavioral research, and organizational design for candidates, advocacy organizations, and philanthropies. At 270, Kate worked on a wide range of issues, from civic engagement to food security to public health to elevating the teaching profession to international conflict resolution.
Kate has trained leaders in Africa, Asia, Europe, Latin America, and the Middle East, with participants hailing from more than 40 countries. She got her start as an organizer on Barack Obama's 2008 campaign, and has since worked with dozens of campaigns and candidates up and down the ballot including rising stars like Lauren Underwood, Cory Booker, Lina Hidalgo, and Andy Kim.
Kate resides in Oakland, California with her partner Conrad and her retriever mix, Louie. She spends as much time outside as possible, and loves film, music, writing, travel, forest bathing, and pizza.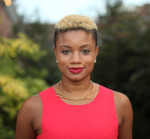 Gabby Seay is the Founder of Seay Strategies, a social impact consulting practice that works with campaigns, companies and causes looking to organize their communities, win campaigns, build their lists, and deepen their relationships with supporters and stakeholders. Gabby's nearly 20 year career has been spent electing Democrats from local mayors and county commissioners to ultimately serving President Barack Obama's Ohio Political Director in 2012. Gabby went on to lead the Grassroots Team at 270 Strategies before launching Seay Strategies in 2017. Gabby is the former Political Director for 1199SEIU United Healthcare Workers East, the nation's largest local labor union where she led a 40+ person team responsible for the union's political, legislative, and policy work along the East Coast. Gabby serves on the boards of Workers Action Center and Win/Black.