How Digital Organizing Can Turn Community Organizers into Community Influencers
Session Type(s): Training
Training Tag(s): Grassroots Organizing/Campaigns
Starts: Saturday, Jul. 15 2:30 PM (Central)
Ends: Saturday, Jul. 15 3:30 PM (Central)
Room: Astoria
While a lot has been said about what happened during the most recent midterm elections in Texas, we have not heard enough about what grassroots organizers in Harris County did to galvanize the second-largest midterm election turnout in 30 years. Join us to learn four critical digital organizing tactics that will turn community organizers into community influencers to make a historic impact in the next election.
Trainers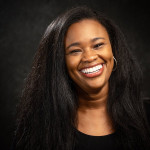 As the founder and Chief Good Troublemaker at Backbone Digital Leaders, Jess Moore Matthews' expertise in digital marketing and organizing comes from her leadership on several presidential and down-ballot campaigns, as well as in industries from tech to state and local government.
A digital coach with the National Democratic Training Committee and a mentor to many, Jess' activism has always empowered underestimated leaders to claim their seat at the table.