How Data Engineering Can Make Organizers' Dreams Come True
Session Type(s): Panel
Starts: Thursday, Jul. 13 4:00 PM (Central)
Ends: Thursday, Jul. 13 5:00 PM (Central)
Room: Salon C-3/4
Imagine if people who signed up to volunteer via Hustle automatically got added to your CRM and assigned an organizer. Data Engineers, especially those with open-source tools like Parsons in their hands, can build these custom workflows catering to the specific needs of organizers. Great data engineering can diminish the need for repetitive data entry tasks organizers previously completed, creating more space for them to organize. A strong partnership between data engineering and organizing can unlock a world of creativity in organizing that we are excited to showcase.
Moderator
Panelists
Amity Foster is the Data Manager at ISAIAH, a multi-faith, multi-racial statewide coalition of leaders fighting for racial, economic and social justice, and for Faith in Minnesota; our sister c4 and a political home for people who want to create people-centered politics, grounded in abundance and not scarcity. She started out as an executive assistant at ISAIAH, then a leader in criminal justice organizing, and started to get clear that the institutions we all move in can either bring more people into democracy, or continue to keep people out. She believes that we build power and make systemic change when people claim their own agency and voice, and move together, with shared values and agendas. Grassroots data helps us tell the story of that power, through leadership development and basebuilding, and she is interested in tracking that growth, in a systemic way-of leaders in their own networks and bases and how that connects back to grassroots organizations and builds power for the organization AND individual.
Other sessions: Relational Organizing at Scale: When to Run an Incentivized vs Volunteer Program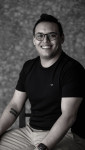 Arsidez works at TMC as the Training Program Manager based in Tutelo and Keyauwee Territory (North Carolina). In 2022, Arsidez joined the TMC team as a Movement Tech Strategist with a dedication to meaningful knowledge sharing and finding practical solutions for members. He now guides the Technology Constellation's engagement in training spaces, manages The Movement Training Calendar (MTC) resource, and is building out the new Cooperative Training Coalition. Arsidez came to TMC after spending over 6 years organizing across the country on a wide variety of progressive issues, including climate justice, racial justice, police abolition, LGBTQ+ rights, voting rights, and educator causes.
In 2020, Arsidez was chosen as a member of President Biden's North Carolina LGBTQ Leadership Council; after he sat as the Vice President of the LGBTQ+ Democrats of NC for consecutive terms. Arsidez began his official professional organizing career in 2016 as a HFA Campus Organizer, in rural Eastern NC, after graduating from Mars Hill University with his degree in Political Science.
In his free time, Arsidez does stay up to date with all things Star Wars, tending to his vibrant plants and playing with his fur babies (two beautiful cats). You cannot separate Arsidez from the outdoors; he and his boyfriend take day trips to hike the beautiful Pilot Mountain and Hanging Rock in their backyard. Ask him about training/knowledge sharing best practices, innovative ways to engage young folx, AI/LLMs and The Movement Cooperative.
I wear a lot of hats. I'm a non-profit executive, technologist, team-builder and coder who loves to use data to WIN! I lead a team of awesome techies and digital strategists at MomsRising. My family owns and operates an independent bookstore and toy store in Northfield, MN, and I can often be found there with my three kids on the weekend playing with a yo-yo or browsing for my next sci-fi read.