Why We All Need to Talk About Immigration–and How to Do It
Session Type(s): Training
Training Tag(s): Communications
Starts: Thursday, Aug. 18 4:00 PM (Eastern)
Ends: Thursday, Aug. 18 5:00 PM (Eastern)
This training will empower candidates, advocates, and communicators in a variety of fields to engage in today's broadly intersectional conversation on immigration. Join us and learn to anticipate right-wing attacks, emotionally counter opposition narratives, and proactively frame the debate. The content is rooted in an unprecedented effort by pro-immigrant communicators to identify proven, people-centered, and powerful messaging lessons from 100+ public opinion studies by 62 organizations since 2016. The bottom line: progressives don't need to avoid talking about complex issues like immigration in order to win. When we message to meet our audience's emotional and informational needs, they come along with us.
Moderators
Vanessa Michel is the Director of Communications for the ACLU of Colorado. In that role, she has contributed to immigrants' rights efforts, including managing the production of the investigative report Cashing in on Cruelty and consulting on the short documentary film The Facility. Vanessa grew up in El Paso, Texas, and is the daughter and granddaughter of immigrant farmworkers. She currently serves on the Women's March Denver board of directors and lives in Denver, Colorado.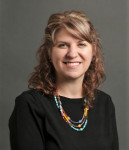 Kimberly Serrano, MA, MURP is the Messaging Research Director at California Immigrant Policy Center, based in Los Angeles. She has spent the last decade leading groundbreaking messaging research collaborations on immigrant rights
and climate justice, including the Immigration Strategic Messaging Project and a synthesis of research on narratives that build pro-immigrant support. She draws inspiration, renewal, and hope from her multi-status family across rural Mexico, CA, and upstate New York.