We're Gonna Need More Red Bull: An Email Rapid Response Training
Session Type(s): Training
Training Tag(s): Basic Online Organizing
Starts: Thursday, Aug. 18 2:30 PM (Eastern)
Ends: Thursday, Aug. 18 3:30 PM (Eastern)
Room: 326
Rapid response moments can completely change the trajectory of a campaign (electoral or advocacy)—not just for a day or week but for months or years. This training will cover how adjust your workflows, how to follow up, and how to plan for rapid response moments.
Moderators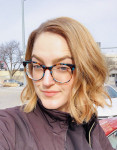 Malinda Frevert has 11 years of experience doing digital work for candidates, electoral groups, and advocacy organizations.
She began her career organizing farmers and ranchers agains the Keystone XL pipeline for BOLD Nebraska, has worked for campaigns in Minnesota and Ohio, ran the email program at EMILY's List for four years, and was deputy digital director of the DSCC. She's been managing teams for 5 years.
She currently works as the Managing Director of Fireside Campaigns.
Lucille Wenegieme is a first-generation Nigerian American and a communications professional with backgrounds in political advocacy, impact finance, fashion, and biomedical science. Her interdisciplinary approach to work and life is her greatest asset, and she brings 360 degree consideration to her impact-driven clients on the issues that matter most.
Before coming to Fireside, Lucille served as the VP of Communications & PR for the National Vote at Home Institute, the nation's leading authority on mail ballot policy, research, and implementation support. In her experience as a digital consultant, she worked with state and national partners like Leadership for Educational Equity, Colorado Civic Engagement Roundtable and more. Lucille can also be found out in the world training teams, producing events, and moderating tough conversations with change agents like House Majority Leader Nancy Pelosi, former Deputy Postmaster General Ron Stroman, and Energy Secretary Jennifer Granholm. Prior to her work in civic engagement, Lucille worked at the global luxury retail giant Coach, Inc.