Transforming America's Immigration Narrative: How to Counter the GOP's Xenophobic Attacks
Session Type(s): Panel
Starts: Saturday, Aug. 20 3:15 PM (Eastern)
Ends: Saturday, Aug. 20 4:15 PM (Eastern)
The GOP has made nativism a cornerstone of their midterm message, and silence is a losing strategy. Join us to hear from some of the leading voices tracking right-wing, anti-immigrant messaging with tips on how to effectively counter them. We'll discuss the latest research and data to understand these attacks and how to help disrupt misinformation to transform America's immigration narrative.
Moderator
Zachary Mueller is America's Voice Political Director. Zachary manages GOPAdTracker.com – a searchable database of racist and xenophobic dog-whistle ads. He also writes for the blog and creates video content to educate about important immigration topics, uplift the work of immigrants' rights groups on the ground across the country, and shine a spotlight on anti-immigrant politicians and organizations.
Prior to joining America's Voice, Zachary was a political organizer in the Kansas City area where he is based. He wrote an intensive report on the anti-immigrant zealot Kris Kobach, wrote and researched far-right organizing in Kansas and Missouri, and was a union organizer and worked on the Fight for $15 campaign. Zachary earned a Bachelors degree and a Certificate of Labor Studies from the University of Missouri Kansas City.
Panelists
Mario Carrillo is the Campaigns Manager for America's Voice. Prior to AV, Mario served as the communications director at Voto Latino, where he focused on organizational messaging and implemented a comprehensive communications strategy. In 2016, Mario's work helped the organization earn more than one billion media impressions during a critical election year, and he placed op-eds by Voto Latino influencers, including Wilmer Valderrama and Lila Downs, in key national and local media outlets. Before that, Mario worked as the communications manager for United We Dream. Mario was born in Chihuahua, Mexico and raised in El Paso, Texas. He earned a Bachelor of Arts in Communication from the University of Texas at San Antonio and a Master of Arts in Journalism from the University of Texas. He lives in Austin with his wife Angelica, daughter Izel, and dog Hugo.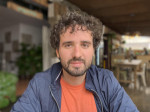 Born in Argentina, Thomas Kennedy came to the United States with his parents at the age of 9, first living in New Jersey before settling down in Miami. After living as an undocumented person for over a decade and seeing the daily struggles his parents overcame to have a better life, Thomas became involved in progressive activism and immigration reform advocacy. He graduated with an international relations major from the Florida International University and a masters in community and social change from the University of Miami.
Thomas has worked for nonprofits and civil rights organizations including the Service Employees International Union, The New Florida Majority, and as the Political Director for the Florida Immigrant Coalition, managing statewide electoral campaigns and voter registration efforts. With his help, the Florida Immigrant Coalition registered 29,000 voters in 2018 and 2019 and was part of a campaign by the Florida Rights Restoration Coalition to pass amendment 4, which restored voting rights to 1.4 million Floridians. He also helped lead a campaign to close a detention camp for migrant children in Homestead. Recently, he worked for the Bernie Sanders 2020 presidential campaign, where he helped manage a team of volunteers across 50 states and worked at United We Dream as National Campaign Manager. He currently advises progressive and immigrant rights organizations and serves as a Democratic National Committee member who is focused on reforming the institution to make it more democratic and focused on working class issues.
Taslim is originally from the Dominican Republic and was formerly undocumented. She is currently a Digital Media Fellow at the Immigration Hub, where she tracks right-wing media immigration messaging and assists with digital ad campaigns. Previously, Taslim was a paralegal at the ACLU's Immigrants' Rights Project (IRP). Before joining IRP, Taslim interned at the American Immigration Council and the NYC Mayor's Office of Immigrant Affairs. A Dreamer herself, at Pace University, she founded ABRIR, an organization that provides college application workshops for undocumented high school students. She received her bachelor's degree in political science and peace and justice from Pace University and a master's degree in global affairs from Tsinghua University in Bejing, China, through Schwarzman Scholars.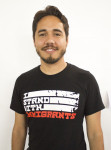 John-Michael Torres uses strategic communications, narrative strategy, popular education and play to organize for and win policies and processes that allow border communities to decide how we live and thrive. He has organized in the borderlands for 20 years, starting in high school, where he organized his musician friends to collectivize equipment and share resources so everyone got a chance to learn and perform publicly. For the last 12 years, he has worked as communications coordinator for nonprofit La Unión del Pueblo Entero (LUPE) where he helps colonia residents and immigrant community members use media in combination with organizing to win improvements in their neighborhoods and fight for a free and thriving border region. When not organizing, he likes to play jarana, cook, and dance. Originally from Patwin territory, he has resided in Esto'k Gna territory, what is now known as the Rio Grande Valley, for the last 25 years.