The Aftermath of Dobbs: State Attorneys General and the Fight to Protect Abortion Access
Session Type(s): Featured Panel
Starts: Thursday, Aug. 18 1:00 PM (Eastern)
Ends: Thursday, Aug. 18 2:15 PM (Eastern)
In June, the nation was shocked by the Supreme Court's decision to overturn Americans' long-standing right to abortion by the Court's issuance of the Dobbs v. Jackson Women's Health Organization opinion. In the weeks following this decision, there have been numerous attempts to further curtail the right to abortion at the state level. These attacks drive home the increased importance of progressive Attorneys General in defending abortion access in their states, including protecting people who travel to their state to seek care, and navigating this new legal landscape. This panel will feature attorneys general and candidates who will speak to their ongoing work to protect the right to abortion.
Moderator
Panelists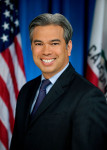 On April 23, 2021, Rob Bonta was sworn in as the 34th Attorney General of the State of California, the first person of Filipino descent and the second Asian-American to occupy the position. Attorney General Bonta's passion for justice and fairness was instilled in him by his parents, who served on the frontlines of some of America's most important social justice movements. It's why he decided to become a lawyer — to help right historic wrongs and fight for people who have been harmed. He worked his way through college and graduated with honors from Yale University and attended Yale Law School. Attorney General Bonta has led statewide fights for racial, economic, and environmental justice and worked to further the rights of immigrant families, renters, and working Californians. He previously worked as a Deputy City Attorney for the City and County of San Francisco, where he represented the City and County and its employees, and fought to protect Californians from exploitation and racial profiling. He went on to pursue elected office in Alameda County, first as an Alameda Council Member and later as an Assemblymember representing Oakland, Alameda, and San Leandro. He is married to Mia Bonta, and they are the proud parents of three children Reina, Iliana, and Andres, as well as their dog Legolas.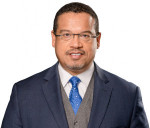 Sworn in as Minnesota's 30th Attorney General in 2019, Keith Ellison is the first African American and the first Muslim American to be elected to statewide office in Minnesota. Before becoming AG, Ellison represented Minnesota's 5th District in Congress where he focused on consumer, worker, environmental, civil- and human-rights protections for Minnesotans. As Minnesota's AG, Ellison has championed affordable health care, a fair economy, and equal opportunity for all. Ellison has opposed a new rule revoking legal status for immigrants accessing public assistance, created a unit within the office that focuses on investigating and prosecuting abuse of workers and wage theft, as well as filing lawsuits against opioid manufacturers. This year, Ellison and his team successfully prosecuted former police officer Derek Chauvin for the murder of George Floyd.
Letitia "Tish" James is the 67th Attorney General for the State of New York. With decades of work, she is an experienced attorney and public servant with a long record of accomplishments. She is the first woman of color to hold statewide office in New York and the first woman to be elected Attorney General.
In 2013, Ms. James was elected Public Advocate for the City of New York and became the first woman of color to hold citywide office. As Public Advocate, Ms. James served as a watchdog over New York City government agencies and as an advocate for the City's most vulnerable communities. She transformed the Public Advocate's office to be a formidable engine for change.
Her office handled over 32,000 constituent complaints and passed more legislation than all previous Public Advocates combined, including a groundbreaking law that banned questions about salary history from the employment process to address the pervasive gender wage gap. Ms. James successfully took on the gun industry by pushing New York City's largest pension fund to divest from gun and ammunition retailers. She fought in court on behalf of children and families on issues including children in foster care, children with disabilities, and tenant protection. New Yorkers overwhelmingly elected Tish James to a second term as Public Advocate in November 2017.
Prior to serving as Public Advocate, Tish James represented the 35th Council District in Brooklyn in the New York City Council for ten years. As a Council Member, she passed the Safe Housing Act, legislation that forced landlords to improve living conditions for tenants in New York City's worst buildings. She helped uncover the corruption behind the Office of Payroll Administration's CityTime contract, a scheme that cost New York City over $600 million. She also pushed through a revolutionary recycling package that included expanding plastic recycling, a new clothing and textile recycling program, and increased access to recycling in public spaces.
Before her election to the City Council, Tish James served as head of the Brooklyn Regional Office of the New York State Attorney General's Office. She resolved hundreds of consumer complaints and investigated predatory lenders who preyed on first-time homebuyers. She assisted the Civil Rights Bureau in its investigation of the NYPD's stop-and-frisk policy and cracked down on firms engaged in deceptive business practices including violations of human rights, environmental laws, and scams targeting immigrants.
Tish James began her career as a public defender at the Legal Aid Society. A proud Brooklynite, she is a graduate of Lehman College and Howard University School of Law.
William Tong is the 25th Attorney General and first Asian American elected statewide in Connecticut.
As Attorney General, Tong's top priority is to protect Connecticut residents and consumers from powerful forces that threaten us. As Attorney General, he has taken on Purdue Pharmaceuticals, securing $6 Billion for those affected by
the opioid crisis.  He has also held ExxonMobil accountable for decades of lies regarding their role in climate change. He graduated from Phillips Academy Andover, Brown University and the University of Chicago Law School. He practiced law for 18 years as a litigator in state and federal courts. He then went on to serve 12 years in the Connecticut House of Representatives. A Connecticut native, Tong is the oldest of five children and grew up working side-by-side with his immigrant parents in their family's Chinese restaurant. He and his wife, Elizabeth, live in Stamford with their three children and too many pets.