Storytelling Workshop for Content Creators
Session Type(s): Training, Professional Development Training
Training Tag(s): Intermediate Online Organizing
Starts: Friday, Aug. 19 9:00 AM (Eastern)
Ends: Friday, Aug. 19 10:30 AM (Eastern)
Have your fingers hardened into claws from typing the words "chip in before the deadline?" Have you written the same 250 words 250 times? Are you looking for a way to revitalize an email program that's lost its variety, or build a program that sparkles with wit, relies on strong narratives, and remains grounded in humanity? At Do Big Things, we've often found that an email or piece of content that tells a marvelous story outperforms content that's just checking the boxes. In this training, we'll teach you literary devices and techniques to make your email program unforgettable.
Moderator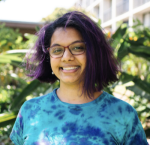 Janani Sreenivasan helps campaigns tell their stories and energize their audiences across a wide range of digital platforms. She came to this work from the worlds of sketch comedy, improv, and filmmaking, getting her feet wet as an email strategist on Hillary Clinton's 2016 campaign (not those emails). Having lost her sense of humor on November 9, 2016, she began rebuilding it by working with 270 Strategies and, now, with Do Big Things. Specific interests include messaging for red-to-blue races, refining the voices of millennial candidates, and telling stories centered on immigration and naturalization issues.
Janani holds an M.F.A. in nonfiction writing from the University of Iowa, has presented two short comedies in film festivals, and has mocked #45 in The New Yorker. She is also a theatre director, actor, and composer.
Other sessions: Storytelling Workshop for Content Creators