Reimagining Cultural Impact: Engaging the Entertainment Industry to Ensure Authenticity and Equity
Session Type(s): Training
Training Tag(s): Communications
Starts: Saturday, Aug. 20 10:00 AM (Eastern)
Ends: Saturday, Aug. 20 11:00 AM (Eastern)
Narrative and cultural impact for collective liberation requires active reflection on how we uplift, support, and engage communities. In recent years, we continue to see a heightened demand—from audiences and the entertainment industry—to uplift untold stories of historically underrepresented communities and experiences. This session asks questions about how we as organizers, artists, and narrative strategists engage the entertainment industry to ensure authenticity and equity while holding the industry accountable to their cultural power. We'll examine tactics traditionally used to leverage films and TV for cultural impact, where they come from (white western culture) and how we can reimagine entertainment advocacy/impact.
Moderators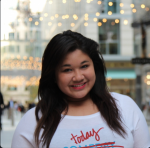 Rachel Birnam is passionate about bridging the gap between pop culture and advocacy and furthering complex representations of women of color on screen. She is the Cultural & Entertainment Partnerships Manager at the National Domestic Workers Alliance (NDWA) where she supports NDWA's efforts to leverage the power of culture to change how society perceives and treats people who do domestic work. Rachel manages NDWA's engagement with the entertainment industry to further domestic worker representation in film & TV. Prior to NDWA, Rachel led social impact campaigns for issue driven films and TV shows, leveraging entertainment media to address a variety of social issues, from ending LGBTQ+ conversion therapy, to the death penalty's disproportionate effect on communities of color. She is a graduate of UC San Diego with a B.A. in Literature/Cultural Studies.
Maya M., comes from the world of storytelling for social change. Born and raised between the U.K. and U.S., her background has drawn her to nuanced stories that progress social movements. Maya joined Caring Across Generations after deciding to utilize her passions for art and activism towards caregiving, a reality core to her upbringing and family. Prior to joining the team, Maya spent six years as a campaigner and digital strategist, working on films such as Academy Award winning documentary American Factory, When They See Us, John Lewis: Good Trouble, and Judas and the Black Messiah. Her campaigns have received recognition from institutions including: Fast Company's World Changing Ideas Awards, Cannes Lion, Shorty Awards, and the Webby Awards.