Redistricting: What Happened? What Did We Learn? What's Next?
Session Type(s): Panel
Starts: Friday, Aug. 19 1:30 PM (Eastern)
Ends: Friday, Aug. 19 2:30 PM (Eastern)
The redistricting cycle this year was unlike any other. From Trump's political meddling in the census to an adjusted timeline of redistricting data to unprecedented attacks on the Voting Rights Act and high levels of engagement from communities of color, this cycle has been a whirlwind. Hear from leading state and national civil rights experts and advocates, including a plaintiff in the Alabama VRA case currently before the Supreme Court. Attendees can expect to hear current updates and an assessment of redistricting in 2022, an overview of threats to the VRA and voting rights in America, and learn lessons from the organizers who are fighting for voting rights and better civic engagement every day.
Moderator
Panelists
Victoria Grijalva Ochoa is a born and raised Arizonan. She is a graduate of ASU, where she majored in public policy and worked with the Andrew Goodman Foundation to make civic engagement accessible to students. Since then, she has worked on various political campaigns, including January Contreras for Arizona Attorney General and Mark Kelly for U.S. Senate. Most recently Victoria fought for fair and representative districts with One Arizona and now serves as the Candidate Recruitment Director.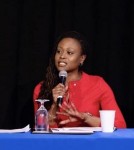 A. Salewa Ogunmefun (she/her/hers) is a Nigerian-American social justice organizer with a passion for building black political power. With nearly a decade of experience leading and implementing campaigns and field programs in over ten states, Salewa joined the One Pennsylvania team as Political Director in 2016 building with workers to launch the Fair Work Week Campaign in Philadelphia.
As a graduate of Prince George's County Public Schools, and a former employee of the School District of Philadelphia she is deeply invested in public education that prioritizes children over profits, culminates the family experience, and builds community in Black neighborhoods. A strong belief that unity is strength, an appetite for massive political education, and faith in God drive her everyday. In her free time, she enjoys spirited debates with her nephews (2 and 4 year old grown men), flexing her interior design skills, and anything that challenges her to think differently. 
Since joining the One Pennsylvania team Salewa has lead successful field efforts registering over 10,000 new voters across the state, knocking on over 500,000 doors, and signing up over 250 dues paying members of the organization. Under her leadership One Pennsylvania members have worked with allies throughout the state to won victories including a Fair Workweek in Philadelphia for over 130,000 retail, food service, and hospitality workers, a pre-K through 2nd grade suspension ban in Pittsburgh Public Schools, and an increase in operating dollars for labor enforcement in the city of Philadelphia.