Level Up Your Data: Making Dashboards Everyone Wants to Use
Session Type(s): Training
Training Tag(s): Advanced Online Organizing
Starts: Thursday, Aug. 18 11:00 AM (Eastern)
Ends: Thursday, Aug. 18 12:00 PM (Eastern)
Room: 328
The key to building dashboards isn't data—it's digital strategy, teamwork, and a bit of coding patience. In this training, we'll cover how to identify KPIs and metrics from your digital goals, design and code dashboards from your KPI and metrics, and create accessible dashboards everyone wants to use. Knowing how to create dashboards is especially useful for teams who don't have a lot of capacity to consistently navigate spreadsheets and pivot tables but remain steadfast in making data-driven decisions and seeing how your program is doing in real-time. As part of this session, we'll demo tools including Cluvio, Figma, Action Network and Action Builder.
Moderators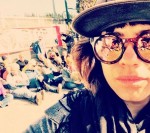 Vanessa currently works at SEIU 1021 as their (first ever) Lead Digital Organizer where she is focusing on embedding digital strategy into their robust field organizing program. She has been a digital strategist, trainer, and consultant for the past decade across movements. Vanessa believes in order to be more equitable, effective, and efficient in the digital space, it's important for organizers and communicators to come together to skillshare, discuss learnings, brainstorm, and network. When we stop asking each other questions and pushing to be better at what we do, we lose important battles for a better world!
Vanessa is originally from Mississauga of the New Credit Territory also known as Ontario, Canada — but now live in Oakland, California on Ohlone Territory.