Instagram for Organizing
Session Type(s): Training
Training Tag(s): Intermediate Online Organizing
Starts: Friday, Aug. 19 1:30 PM (Eastern)
Ends: Friday, Aug. 19 2:30 PM (Eastern)
Engagement rates for nonprofit Instagram posts are over 18 times higher than their posts on Facebook. In this workshop, we'll learn how to go from engagement to movement-building. We'll cover best practices for organizing on Instagram, go over case studies such as the Voices of Amazon account—an account that generated over 8,000 worker followers/leads within the span of a few months—and lead participants through a workshop to plan their own IG organizing campaigns. We'll share templates and workshop creating clear goals, compelling content, and effective workflows. We'll end with key metrics that organizations should track to make their Instagram organizing even stronger.
Moderators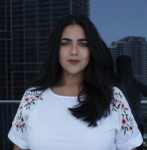 Bianka develops individualized curricula to help organizations meet their strategic goals. She has spent the last decade as an organizer in the South dedicated to fighting for economic justice and immigrant rights in the labor movement. Some of her proudest organizing moments have been supporting retail associates striking for better wages and working conditions, and fighting alongside farmworkers in North Carolina for stronger contracts.
When not thinking about building conscious communities, Bianka is probably somewhere by the ocean, gardening, and loving on her two pet birds.
Chloe is a Philly-based trainer with the Online to Offline Strategy Group, with experience in immigration, labor, and electoral organizing.
Prior to joining the O2O team, Chloe was the lead organizer for the Congress of Day Laborers (Congreso de Jornaleros) at the New Orleans Workers' Center for Racial Justice where she used popular education to develop campaigns targeting ICE, police, and others alongside Congreso's membership base. Chloe has supported Amazon workers organizing to demand changes during the COVID19 pandemic and helped launch the Vote for Respect program at United for Respect, building a base of over 1000 volunteers to collectively reach over a million working-class voters during the 2020 electoral cycle. Chloe is also an interpreter/language justice worker, a member of the BanchaLenguas Language Justice Collective, and a member of Mijente.