Inside the Ten-Year, Multiracial Base-Building Plan in Predominantly White Kentucky
Session Type(s): Panel
Starts: Saturday, Aug. 20 10:00 AM (Eastern)
Ends: Saturday, Aug. 20 11:00 AM (Eastern)
We all saw and benefitted from the long-term vision and drive of organizing groups in Georgia in 2020. To further break up the GOP stronghold on federal power, we have to apply the Georgia treatment to other states in the South. Organizers will describe and dissect the "Path to Power," a ten-year vision and plan to win in Kentucky by shifting the focus of the left from an inside game strategy to a grassroots base-building approach. Kentucky might not be the first place that comes to mind when thinking about multiracial organizing, but this panel will demonstrate how a multi-racial grassroots movement for progressive candidates in Kentucky, balancing long-term organizing in working class communities, can win.
Moderator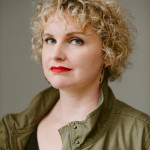 Beth Howard is the Rural Kentucky Campaign Director for Showing Up for Racial Justice (SURJ) where she is organizing transformational basebuilding campaigns in her beloved home state. She is from a working-class family in rural Eastern Kentucky and has over 15 years of experience in grassroots community organizing and leadership development. In 2019, she graduated from Catalyst Project's Anne Braden program, a transformational anti-racist organizer training for white social-justice organizers where she made a commitment to organize her people in Appalachia. She is deeply committed to visionary organizing strategies to build a powerful multiracial working class people's movement in Appalachia and the American South. She lives in Lexington, KY with her partner Andrew, their faithful dog Sandy, and their defiant cat Tadpole.
Panelists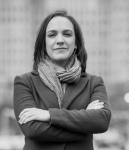 Erin Heaney is the National Executive Director of Showing Up for Racial Justice (SURJ), a national organization that organizes in majority-white communities to undermine the power of the Right and bring more white people into multi-racial, anti-racist movements for justice. She brings over a decade of experience running grassroots campaigns for economic, racial and environmental justice and building organizations to enable transformative organizing.
In her time at SURJ, Erin has shepherded significant growth and strategic shifts including the growth of the SURJ Chapter Network to over 175 local groups working on issues of policing, mass incarceration and immigration, the launch of SURJ's electoral organizing programs and the robust centering of and expansion of SURJ's organizing in poor and working class, rural and Southern communities.
Erin is a queer woman from a white Irish-Italian union family from Buffalo, NY where she lives with her wife Emma.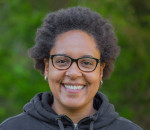 Alicia is a Louisville, Kentucky native and resident. Prior to joining Commonwealth Alliance Voter Engagement, Alicia was a community organizer and political director with Kentuckians For The Commonwealth. Alicia is committed to turning the political tide in Kentucky in a way that centers racial justice, equity, and the voices and humanity of directly impacted Kentuckians.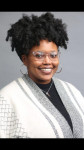 Celine Mutuyemariya is the Electoral Justice Organizing Director for Black Leadership Action Coalition of Kentucky (BLACK). BLACK is an inclusive network of Black organizers and activists across the commonwealth of Kentucky working together to build Black political power and a Black policy agenda grounded in a shared vision and shared values.
Celine moved to Louisville as a refugee from the 1994 Rwandan genocide and has called Louisville home since she was 7. Celine has a background in community counseling but transitioned to policy work in her last role at the Louisville Urban League as a Community Policy Strategist. Celine believes in using a collaborative and systems-level approach to changing social, economic, and health outcomes for Black people and other marginalized communities. Celine also believes in the power of the people and the power of collective, bottom-up approaches to enacting change in communities which is why electoral organizing is such a passion for Celine.