Email Fundraising that Works: What to do When Your Digital Fundraising Hits a Plateau
Session Type(s): Training, Professional Development Training
Starts: Thursday, Aug. 18 9:00 AM (Eastern)
Ends: Thursday, Aug. 18 10:30 AM (Eastern)
Does this sound like you?
• Your email program has been running for years and it's a key source of revenue for your organization. 
• You're tasked with meeting prior records set during the Trump administration and even build on them, but you've exhausted your current audience and toolset.
• The only ideas you have left involve glitchy GIFs from 2011. 
In this training, we'll talk about how to help your organization break out of this plateau by:
• Creating "moments" for digital
• Using ads to bring back those pesky lapsed donors
• Running donor persuasion campaigns
• Building your sustainer relationships
• Engaging your audience visually (not with GIFs from 2011)
• Exploring merch
• Working with your direct mail team
• Winning the case internally for your budget
Catherine Algeri, SVP at Do Big Things and former Sr. Digital Advisor to the Kamala Harris Presidential campaign and Digital Director of the DSCC, will walk through examples and lead brainstorming sessions to help your program reach the next level.
Moderator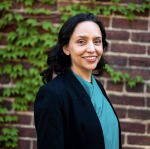 Catherine Algeri (she/her) is Senior Vice President at Do Big Things, a certified minority-owned digital-first strategy firm. Catherine is a nationally-recognized Digital and Political Strategist who has raised more than $100 million for Democratic campaigns. She has served as Senior Digital Advisor for Kamala Harris' groundbreaking presidential campaign, lead Digital at the Democratic Senatorial Campaign Committee in the 2016 and 2018 cycles, and has also led digital programs that advised the U.S. Senate campaigns for Senator Sheldon Whitehouse, Senator Richard Blumenthal, and Michelle Nunn. Catherine continues to use her political experience, as well as her prior career in non-profits, to help DBT's wide range of organizations with improving their rapid response, fundraising, and branding efforts.
As the first Latina to head up digital for a major democratic party committee, Catherine is passionate about inclusion, mentorship, and has furthered this passion by helping organizations and causes to set decisive strategies for Latino outreach. She is the mom of two adorable children who don't like to sleep and a Girl Scout Troop leader.
Catherine's work and digital expertise have been profiled in FiveThirtyEight, New York Times, Politico, and The Hill. She is a board member of Netroots Foundation and a frequent public speaker, including for American University's Women and Politics WELead program, EMERGE America, and Netroots Nation.