Dreams in Debt: How the Racial Wealth Gap Drives Student Lending
Session Type(s): Panel
Starts: Saturday, Aug. 20 2:00 PM (Eastern)
Ends: Saturday, Aug. 20 3:00 PM (Eastern)
Students of color, and in particular Black students, tend to borrow student loans in higher amounts than their peers and borrow more frequently. This is the legacy of the historic and ongoing systemic racism that has created a persistent racial wealth gap, leaving Black and Latino students with less family wealth to draw upon as they pursue their degrees. And after graduation, the disparate impact persists. Almost half of Black graduates owe more on their undergraduate student loans four years after graduation than they did when they received their degree. During this panel, experts on student lending will discuss the student loan crisis—how we got here, the effects on Black wealth in particular, and how to fix it.
Panelists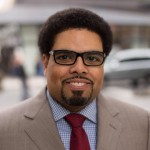 Darrick Hamilton is a pioneer and internationally recognized scholar in the field of stratification economics, which fuses social science methods to examine the causes, consequences and remedies of racial, gender, ethnic, tribal, nativity, etc. inequality in education, economic and health outcomes. This work involves crafting and implementing innovative routes and policies that break down social hierarchy, empower people, and move society towards greater equity, inclusion, and civic participation.
Professor Hamilton's scholarship and practice aligns closely with the work and objectives of the John Glenn College of Public Affairs and The Ohio State University's Kirwan Institute for the Study of Race and Ethnicity. In addition to serving as Kirwan's executive director, Professor Hamilton holds a primary faculty appointment in the Glenn College of Public Affairs, with courtesy appointments in the departments of economics and sociology in the College of Arts and Sciences.
Professor Hamilton was born and raised in the Bedford Stuyvesant section of Brooklyn, NY. He is a graduate of Oberlin College and earned a PhD in economics from the University of North Carolina; he completed postdoctoral appointments at the University of Michigan and Yale University, respectively. He is frequently cited in the media, consults with various public official and serves as an advisor to several nonprofit organizations.