Building Your Tech Stack 101: Getting Started with Digital Campaign Tools
Session Type(s): Panel
Starts: Friday, Aug. 19 4:30 PM (Eastern)
Ends: Friday, Aug. 19 5:30 PM (Eastern)
Choosing to run for office or work on a campaign is a massive decision, but confronting which tech tools to help run your program is arguably even more overwhelming. In this panel, we'll break down the landscape of campaign tech tools, offer pro-tips for assessing which tech stack is right for you, and help campaigns and organizations better understand what makes for winning strategic digital partnerships.
Moderator
Panelists
Building out Hustle's Client Success team from the ground up. Our top-notch team has tripled in just six months! We manage the successful training, support and engagement with Hustle clients as they break records of response and conversation rates with 50+ million genuine conversations over text. Previously at Rainforest Action Network, Global Exchange, and Brigade.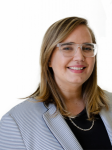 Ashley Wilson is the incoming Director of Communications & Strategy at Catholics for Choice.
Ashley has a decade of experience organizing people of faith on issue campaigns related to tax justice, health care, ending endless war, and more. Before joining Catholics for Choice, Ashley was the Grasstops Advocacy Manager at the Friends Committee on National Legislation (Quakers) and the Communications Manager for NETWORK Lobby for Catholic Social Justice. She has traveled around the country with a pack of nuns as an organizer of five of NETWORK's signature "Nuns on the Bus" trips.