Winning Messaging on Antisemitism: New Message Guide and Tools
Session Type(s): Training
Training Tag(s): Communications
Starts: Friday, Oct. 8 1:00 PM (Eastern)
Ends: Friday, Oct. 8 2:00 PM (Eastern)
We must be more effective in confronting antisemitism–when the Right embraces it and when Republicans use it as a tool to divide us. Our response to antisemitism is an important part of work toward liberation for us all. Together with Bend the Arc: Jewish Action, in deep collaboration with Jewish organizing partners around the country, we have developed powerful new messaging and a framework for talking about antisemitism. We'll share what we've learned to persuasively tell the story of politicized antisemitism, and to analyze why commonly-used messages fall short. We'll offer tools participants can use to fight bad faith accusations of antisemitism, including the new Jerusalem Declaration on Antisemitism.
Moderators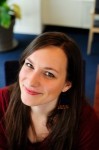 Sharon Rose Goldtzvik is a storyteller, social justice advocate, and communication strategist for progressive nonprofits. A consultant at Spitfire Strategies, she helps organizations and individuals tell their stories and make change in local, national, and international arenas.
Dove Kent, Senior Strategy Officer at Bend the Arc: A Jewish Partnership for Justice, has two decades of experience in grassroots organizing, political education, and movement building. As the executive director of Jews for Racial & Economic Justice from 2011 through 2016, Dove supported the organization to triple in size and win game-changing legislative victories for police accountability and workers rights through powerful local coalitions. Under Dove's tenure, JFREJ grew into one of the strongest and most effective progressive Jewish organizations in the country, creating significant culture shifts within the Jewish community, New York and nationally. She has been published in What We Do Now: Standing Up for Your Values in Trump's America (2017), Towards the "Other America": Anti-racist Resources for White People Taking Action for Black Lives Matter (2015), Understanding Antisemitism: An Offering To Our Movement (2017), and in the Guardian, Ha'aretz, Tikkun, and other media outlets. Dove trains nationally on antisemitism and racism, and is the co-founder of Tzedek Lab, a national network of Jewish political educators and organizers building collective competency to politicize, transform, and inspire the Jewish community into collective action against racism, antisemitism, and white supremacy. She lives in Durham, North Carolina.