#WeAreHome: The Theory to Win Immigrant Justice Now
Session Type(s): Panel
Starts: Friday, Oct. 8 3:45 PM (Eastern)
Ends: Friday, Oct. 8 4:45 PM (Eastern)
The immigrant justice movement hasn't had a big win in 30 years. But now we have a White House and Congress positioned to make bold immigration policy changes to transform millions of lives. We Are Home is a new collaboration of immigration, civil rights, faith, and labor organizations, representing millions of immigrants, union members and workers, faith leaders, Latino, AAPI, Black, Indigenous, and workers. Activists with We Are Home will discuss what they've learned from work in this policy area, where they see opportunities, and the theory to win legalization for the 11 million undocumented immigrants enduring the cruelty of our interior enforcement system.
Moderator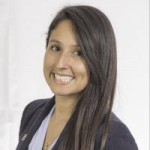 Bridgette Gomez is a daughter of Colombian immigrants and the first generation in her family to attend college. She started her career as a math teacher and began community organizing in Arizona when SB1070, an anti-immigrant bill, passed in the state. For more than a decade, she has helped serve and empower the Latino community as a teacher, organizer, community engagement manager and director. She currently serves as the Director of Latinx Outreach and Engagement for Planned Parenthood Federation of America. Before joining Planned Parenthood, she served as the Latino Engagement Director for the Democratic National Committee (DNC).
Panelists
Greisa Martinez is Advocacy Director at the United We Dream Network. Originally from Hidalgo, Mexico, Greisa immigrated to the U.S. with her family at an early age and grew up in Dallas, TX as an undocumented immigrant.
Greisa has organized immigrant youth and workers for the passage of pro-immigrant policies at the local and national level for the past 9 years.
She co-founded the Council for Minority Student Affairs at Texas A&M University, the first undocumented youth-led group in the University's 100 year history. She founded the Texas Dream Alliance and was a fellow with the League of Young Voters.