Unions are the Future: Digital Labor Organizing 101
Session Type(s): Training
Training Tag(s): Grassroots Organizing/Campaigns
Starts: Saturday, Oct. 9 2:15 PM (Eastern)
Ends: Saturday, Oct. 9 3:15 PM (Eastern)
Union-supporting millennials have become the largest generation in the labor force. Thousands of low-wage gig and Amazon workers are rising up. President Biden voices support for unions! Now's the time for labor to harness digital engagement to empower and unite these workers. There's also an opportunity for organizers to strategize around Apple's new privacy rules. During our session, we'll use case studies and best practices to help you establish your union digital presence, grow union membership, organize more effectively, build efficient digital backend infrastructure, and ensure all workers have a bigger voice in the media. BONUS: We'll set up an online chat for digital union organizers to join after Netroots.
Moderators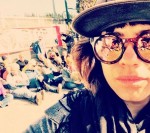 Vanessa currently works at Caring Across Generations (as their Digital Director) and SEIU 1021 (as their first ever Lead Digital Organizer) where she focuses on embedding digital strategy into their robust distributed organizing programs. She has been a digital strategist, trainer, and consultant for the past decade across movements. Vanessa believes in order to be more equitable, effective, and efficient in the digital space, it's important for organizers and communicators to come together to skillshare, discuss learnings, brainstorm, and network. When we stop asking each other questions and pushing to be better at what we do, we lose important battles for a better world!
Vanessa is originally from Mississauga of the New Credit Territory also known as Ontario, Canada — but now lives in Detroit on Waawiyatanong Territory.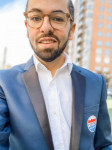 CM is a Washington, D.C. based organizer and digital strategist, with 10+ years of experience in electoral and issue based organizing. They have spent the last four years collaborating and leading the digital strategy efforts for the AFL-CIO.