The Trap of Domestic Terrorism: How Not to Fight White Supremacy
Session Type(s): Panel
Starts: Thursday, Oct. 7 1:00 PM (Eastern)
Ends: Thursday, Oct. 7 2:00 PM (Eastern)
As progressives, we know that racial profiling, warrantless surveillance, predictive policing, biased algorithms, and censorship are all ineffective and unjust. DHS's "Countering Violent Extremism" programs institutionalize all of those practices under the pretext of fighting terrorism. Why then, are so many progressive groups willing to embrace CVE to fight white supremacy? This session will cover how CVE and its twin, Black Identity Extremism, function; the historical roots of surveillance in the US, language tools for shifting away from the War on Terror narrative, organizing strategies for CVE and similar programs (like gang prevention), and opportunity for collaboration with the National StopCVE Coalition.
Moderator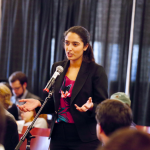 Amira Al-Subaey is a 24 year old queer Arab-American abolitionist organizer working at Muslim Justice League. She leads MJL's campaigns locally and nationally on issues of policing and surveillance; including local efforts to abolish the gang database and national efforts to end the CVE framework.
Panelists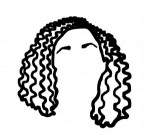 Fatema (she/hers) is the Executive Director at Muslim Justice League, where she leads MJL's efforts to dismantle the criminalization and policing of marginalized communities under national security pretexts. She joined as Deputy Director in 2017 and increased MJL's focus on organizing within and collaborating across impacted communities to resist and subvert surveillance. Fatema also leads the national StopCVE network, spearheads MJL's research, and is a leader in local abolitionist campaigns.
Fatema serves on the Board of Directors for Political Research Associates, a social justice think tank devoted to supporting movements that are building a more just and inclusive democratic society.
Myaisha is the Campaign Strategies Director at MediaJustice. She previously spent two years as the organization's National Organizer on Criminal Justice & Technology, where she oversaw the launch of the #NoDigitalPrisons and #ProtectBlackDissent campaigns. Myaisha also brings several years of organizing experience with her from various national and local campaigns including President Obama's re-election campaign, Fight for $15, and the CLOSErikers Campaign. As the grandchild of a political prisoner, she is deeply committed to organizing people power that leads to radical transformative change and justice. Myaisha earned her BA in Black Studies at Occidental College and currently lives in Brooklyn, New York.