Strategic Advocacy: Congressional Advocacy to Build Power
Session Type(s): Training
Training Tag(s): Grassroots Organizing/Campaigns
Starts: Friday, Oct. 8 3:45 PM (Eastern)
Ends: Friday, Oct. 8 4:45 PM (Eastern)
If you want to engage your Members of Congress, influence policy, and take your advocacy efforts to the next level, you must have the necessary tools and knowledge to do so. Learn to track legislation and policy changes; understand the various advocacy vehicles and strategies (digital organizing, coalition building, and education tools, like Congressional briefings and hearing). This session is an intermediate hands-on Congressional Advocacy training and interactive simulation developed by Poligon Education Fund, a national nonpartisan organization that works towards increasing American Muslim participation on Capitol Hill.
Moderators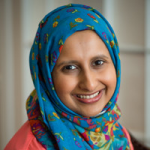 Nadia Mozaffar is on the Board of Directors of Poligon Education Fund. At Poligon, Nadia has conducted several trainings on congressional engagement and advocacy and has assisted with the development of numerous resources targeted towards teaching Muslim Americans how to effectively lobby. Nadia has also managed Poligon's weekly newsletter, Hill Happenings, which provides informative updates regarding Congressional activity.
In addition to her work at Poligon, Nadia is an attorney with policy expertise in the juvenile justice, child welfare, and higher education fields. Nadia currently works at a nonprofit legal organization in Philadelphia where her work focuses on advancing educational rights and opportunities for children in the juvenile justice and child welfare systems, reducing transfers of youth to the adult criminal justice system, and economic justice issues.