Security Essentials for Campaigns and Organizations
Session Type(s): Professional Development Training
Starts: Thursday, Oct. 21 6:00 PM (Eastern)
Ends: Thursday, Oct. 21 7:30 PM (Eastern)
The DNC Security Team has published a Security Checklist (democrats.org/security) for anyone who works in campaigns and politics to secure their accounts and devices. The checklist covers basic cybersecurity hygiene and tips to ensure that everyone—from candidates and consultants, to organizers, interns and volunteers—are secure. Come learn the 10 Commandments of a Security Program at your campaign or organization. This session focuses on the top things your organization can do to increase your security posture. You'll come away with tools and actionable items to make sure you can defend against cyberattacks and focus on winning your campaign.
Moderators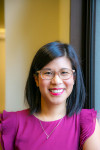 Alison is the Security Program Manager for the DNC, providing resources and training to campaigns, Democratic sister committees, and the Democratic ecosystem. Prior to this, she worked at SEIU on political and organizing campaigns, including the Fight for $15 and a Union campaign.
In her spare time, Alison is the President of the League of Women Voters of San Francisco.