Securing Your Digital Organizing Operations
Session Type(s): Training
Training Tag(s): Tech/Digital Security
Starts: Thursday, Oct. 7 3:45 PM (Eastern)
Ends: Thursday, Oct. 7 4:45 PM (Eastern)
Activists and organizers, especially those in high profile campaigns or marginalized communities, face an ever-increasing threat of external security compromise. While cloud technologies have made digital operations cheaper and more accessible, these tools must be properly secured in order to avoid potentially devastating or catastrophic security breaches. Our training will teach you the top-10 things your campaign team needs to do to secure their digital assets and get you started on the road to digital success.
Moderator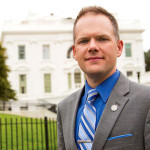 Rusty D. Pickens is the Founder of 580 Strategies, known for his roles as Senior Advisor for Digital Platforms at the U.S. Department of State, and Acting Director for New Media Technologies at the White House, where he led teams who operated cloud platforms for the Obama Administration to increase public engagement, improve user experience, enhance staff productivity, and heighten security posture. During this time, Rusty created new systems for and built new teams to lead Whitehouse.gov, the White House email outreach services, the Presidential correspondence system, the We The People petitions system, the White House Appointment Center, and the U.S. Embassy contact management systems.
Rusty's over two decades of leadership experience aligning organizational vision with technology strategy across top federal agencies and start-up environments included the Federal Salesforce Community of Excellence, the U.S. Small Business Administration, the 2009 Presidential Inaugural Committee, Obama for America 2008, and the Chickasaw Nation of Oklahoma. He currently advises clients on unlocking the potential of cloud computing and agile software delivery to vastly improve their digital presence and citizen experience.