Racializing Control: Why We Need to End Racist Workplace Surveillance
Session Type(s): Panel
Starts: Thursday, Oct. 7 2:15 PM (Eastern)
Ends: Thursday, Oct. 7 3:15 PM (Eastern)
Amazon uses surveillance to monitor, control, and exploit its low-wage workforce. It also plays a role in rapidly expanding police/ICE surveillance in Black and brown communities. In this panel, we will hear from anti-surveillance organizers and activists in the warehouse who are working to end Amazon's policing of workers and communities. We'll also explore the long and racist history that connects these fights.
Moderator
Panelists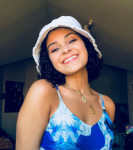 Mona is a Palestinian American woman based out of Savannah, GA, but is originally from St. Louis, MO. As a daughter of immigrants, she understands the deep-seated connection between systemic racism, systemic class oppression, and displacement, and works to bring her and her family's lived experiences to her organizing work. Mona started off her organizing career in the climate movement, and now works with low-wage retail industry workers (specifically Amazon warehouse workers) to win better working conditions and corporate accountability. She is also an artist, and believes applied creativity and artistic expression in the electoral, advocacy, and workers' rights campaigns we collectively build is essential to winning the bigger fight.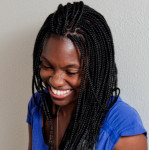 Ayele B. Hunt is Campaigns Director at Fight for the Future and has been leading efforts to fight Amazon's surveillance empire. She campaigned Congress to investigate Amazon's relationship with police, as well as drove efforts to end Amazon's exploitative model of worker surveillance. Prior to joining Fight for the Future, Ayele led grassroots advocacy fights for gender justice and reproductive rights. After long days fighting corporate surveillance and power, she appreciates a good oatmeal cookie from her local bakery.