Session Type(s): Training
Training Tag(s): Communications
Starts: Saturday, Oct. 9 1:00 PM (Eastern)
Ends: Saturday, Oct. 9 2:00 PM (Eastern)
Let's talk about climate change in a way that humanizes frontline communities and the folks who are the most impacted. We'll evaluate several national campaigns, discuss their messaging tactics and intended audiences. We'll look at arctic campaigns and consider whether there are takeaways for BIPOC in urban preservation/environmental justice contexts. Together we'll examine organizing standards for how to humanize people directly impacted by climate in our cities and counties. You'll leave with a better understanding of what type of messaging resonates around climate in BIPOC communities.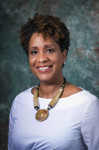 Kim Sudderth is the Organizing Manager of Virginia. Her work has focused on outreach, advocacy, leadership development, and long-term strategic planning so that we can protect our families and the places where we and our children live, worship, learn and play. As a native of Hampton Roads, Kim has a strong connection to Southeastern Virginia's beauty, culture, and pulse where she has raised three smart and resilient daughters. She is passionate about preparing women for leadership within the climate movement in these very uncertain times.
Mothers Out Front launched in Virginia with Kim as the Hampton Roads Organizer in March 2016. Since then, our movement across the Commonwealth has grown to ten established and emerging community teams of "mothers and others" in Hampton Roads, Central Virginia, Northern Virginia, and Southwest Virginia with over 3500 supporters, including 617 leaders and active volunteers supported by a talented and passionate team of four staff organizers.
Kim holds a bachelor's degree in Sociology with a concentration in Diversity and Inequality and a certificate in Leadership, Organizing and Action from Harvard University's John F. Kennedy School of Government. She serves her community on several boards and commissions including Chairperson for the Norfolk – NAACP, Environmental and Climate Justice Committee and as a Planning Commissioner for the city of Norfolk.