Organizing the Jewish Vote: Building a Left Jewish Electoral Flank
Session Type(s): Panel
Starts: Friday, Oct. 8 2:15 PM (Eastern)
Ends: Friday, Oct. 8 3:15 PM (Eastern)
In recent years, Jewish grassroots organizations (Bend the Arc, Jews for Racial & Economic Justice, Jews United for Justice, Jewish Voice for Peace, IfNotNow) have created c4s and PACs to engage Jews in targeted electoral fights. We'll explore lessons from using primaries in heavily Jewish districts to elect strong progressives, such as The Jewish Vote's growth from a base of Jewish seniors active on long-term care to a key partner in Jamaal Bowman's win over Eliot Engel. We'll discuss the role this organizing can play in a broad progressive coalition; disrupting conventional assumptions around Jewish priorities and leadership; and how we build alongside campaigns to respond to anti-Semitism, its weaponization, and white nationalism.
Moderator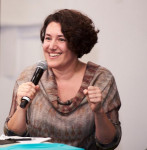 Katie Unger is a co-Founder and Steering Committee member of The Jewish Vote.
She is an independent strategic advisor and trainer for movement organizations and a fourth-generation activist based in NYC. She works with groups to build capacity for strategic research, facilitate powerful campaign design and planning, and leadership development. She's an expert trainer on research and strategy. Her current and past clients include the nation's largest online civil rights and voting rights organizations, Movement School, Partnership for Working Families, Majority Action, New York Communities for Change, the National Employment Law Project and more. Katie spent more than a decade developing powerful campaigns against corporations in the fast-food, laundry and other industries, including as Deputy Director of Strategic Affairs for the Change to Win labor federation, and worked in City government on universal pre-K and paid sick leave.
Panelists