Organizers are Workers Too: Live Your Values, Manage Humanely and Win Campaigns
Session Type(s): Training
Training Tag(s): Operations
Starts: Friday, Oct. 8 1:00 PM (Eastern)
Ends: Friday, Oct. 8 2:00 PM (Eastern)
In the progressive movement, we talk a big game about workers' rights and healthy, humane work environments. But let's be honest. We often don't live up to our own values, especially when we move into management. We'll discuss ways to center your values and still be an effective manager. We will provide concrete, useful tips on how to lead and train organizers — without bullying them or burning them out. We can win and win the right way!
Moderators
First-gen American, dedicated to electing progressives.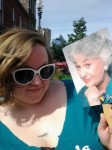 Carli is a native of New England whose work as a cake decorator in a non-union grocery store inspired her to join the labor movement. She works with AFSCME 962, building their communications program. She previously worked with UNITE HERE, where she designed and directed Someone Like Me, a campaign which called on Hyatt Hotels to add a hotel worker to its Board of Directors.