Join the Fight Against the Student Debt Crisis
Session Type(s): Panel
Starts: Saturday, Oct. 9 3:45 PM (Eastern)
Ends: Saturday, Oct. 9 4:45 PM (Eastern)
We're in a student debt crisis. Over 46 million borrowers owe a collective $1.8 trillion in loans. As we know, these loans disproportionately impact borrowers of color and other underserved communities. The government and servicers continue to provide poor and antiquated service, even with a new administration in office. Bad actors in the space take advantage and spread misinformation. As we await more policy progress, nonprofits and startup companies have built coalitions to tackle the problem. Panelists will share insights gained during the pandemic, solutions and resources to help borrowers, discuss ways to hold servicers accountable, and their visions of the future of this fight and debt cancellation.
Moderator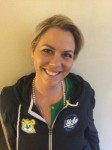 Since 2009, Natalia has been an advocate and leader for the national student debt crisis. She co-founded Student Debt Crisis in 2012. Her work has given Natalia the opportunity to connect personally with student loan borrowers and focus on driving policy solutions through online campaigning. The goal is to turn student debt and affordable education into a winning electoral issue.
In 2011, she started Occupy Colleges as a response to the economic injustices students were dealing with from high tuition increases to lack of financial aid. During her tenure at Occupy Colleges, Natalia organized one of the largest college protest since the 1970's.
Ask Natalia about how to tackle your student debt!
Panelists