From Standing Rock to Vieques, Puerto Rico: The Cost of U.S. Colonialism
Session Type(s): Panel
Starts: Saturday, Oct. 9 1:00 PM (Eastern)
Ends: Saturday, Oct. 9 2:00 PM (Eastern)
Colonized peoples within the United States are standing up for environmental justice and self-determination. The nation of Puerto Rico, has been occupied by U.S. settlers for 123 years since the Spanish American War — and withstood 60 years of bombing and associated contamination by the US Navy in the island-municipality of Vieques. Native communities at Standing Rock have refused to be disregarded in opposing the Dakota Access Pipeline. This session is a collaborative effort between Power 4 Puerto Rico, Boricuas Unidos en la Diáspora, and Center for Popular Democracy, organizations working in solidarity to promote justice for colonized people.
Moderators
Panelists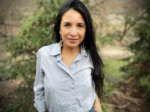 Jenni Monet is an investigative journalist and author of the weekend newsletter, Indigenously: Decolonizing Your Newsfeed. Her work is best known for her months-long embedded field reporting from the anti-pipeline protests at Standing Rock where she received Journalist of the Year acclaim from the Newswomen's Club of New York. Jenni is Kawaik'a, a tribal citizen of Laguna Pueblo, Big Turkey clan.
Myrna Pagán is a long time activist, artist, abuela, Founder of Vidas Viequenses Valen, (inspired by BLM movement), working for peace and justice. She has traveled extensively to represent the people of Vieques and advocate for their rights; has spoken at the UN Decolonization Committee on 5 occasions to denounce the hardships of and injustices against the Vieques community, in the "colony of the colony." Pagán has appeared in many documentaries, and testified before US Congress committees to present the Vieques story. She will be featured in the October Heritage Podcast Celebration of the Smithsonian Institute Biblioteca. Myrna was recently elected to the National Council of Elders. She is the founding member and first President of the Vieques Conservation and Historical Trust, Steering Committee Member of Ceasefire Campaign, Community Representative to the US Navy Restoration Advisory Board and Founder and Co-Editor of The Vieques Times.