Session Type(s): Special Event
Starts: Saturday, Oct. 9 12:00 PM (Eastern)
Ends: Saturday, Oct. 9 12:50 PM (Eastern)
"The Daily Show" co-creator Lizz Winstead is back at Netroots for a special sneek peak of her no-holds-barred feminist comedy talk show, Feminist Buzzkills Live! which officially launches Thursday, November 4th.  Along with fabulous co-hosts Moji Alawode-El (culture writer, marketing guru at Abortion Access Front) and Marie Khan (director of client operations at Midwest Access Coalition), this weekly YouTube show breaks down the news from patriarchy's evil trilogy of misogyny, white supremacy and anti-abortion extremism. It's sorta like "The View," but with hilarious dragging of retrograde sexist d-bags, fact checking, and no Meghan McCain. In this sneak peak Netroots Nation edition, the Feminist Buzzkills will dive deep into WTF is happening with the Supreme Court and abortion access in Texas and Mississippi, digging in hard with leaders in the repro movement and abortion providers directly involved in these two cases. FBK Live! Is the call to action antedote for anyone feeling sick of being helpless as they watch the erosion of reproductive rights!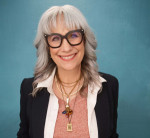 As Co-creator and former head writer of The Daily Show, co-founder of Air America Radio, comedian Lizz Winstead helped change the very landscape of how people get their news. Winstead is not only a writer and creator, she was also a correspondent on The Daily Show and co-hosted Unfiltered, Air America Radio's mid-morning show, with Chuck D and Rachel Maddow.
Known as one of the top political satirists in America, Winstead is recognized by all the major media outlets including The New York Times, The Washington Post, O Magazine, and as Entertainment Weekly's 100 Most Creative People. Winstead's first book, Lizz Free Or Die: Essays, released in 2012, garnered incredible reviews. Ms. Magazine says, "Lizz Winstead is a sharp-witted truth-teller, and Lizz Free or Die will inspire anyone who has ever talked back to the television or wished they could come up with satire as insightful as The Daily Show."
Lizz continues to do stand-up, and make appearances on cable news, yet spends most of her time helming Abortion Access Front AAF) an inclusive NYC- based reproductive rights organization she founded in 2015. AAF uses humor and outrage to expose anti-choice hypocrisy and mobilizes people to take action in all 50 states. Hosting the AAF podcast, Feminist Buzzkills is the perfect next step for Winstead combining her activism with her comedy. It is a must listen, new episodes drip Fridays wherever you get your podcasts.
To keep up with Lizz, follow her on Twitter, Insta and Tiktok @lizzwinstead or like her on Facebook www.facebook.com/lizzwinstead.