Digital Door Knocking: How to Begin a 1:1 through Facebook, Instagram or Twitter
Session Type(s): Training
Training Tag(s): Grassroots Organizing/Campaigns
Starts: Thursday, Oct. 7 1:00 PM (Eastern)
Ends: Thursday, Oct. 7 2:00 PM (Eastern)
Starting personal DM conversations—on Facebook, Twitter or Instagram—can be an entry point to more meaningful organizing conversations in person or over the phone. Come learn from labor organizers who have worked on Amazon, child care and with retail workers about the best practices we've learned on how to avoid being flagged as spam, ending up in that "other" inbox and getting a good response rate from conversations you start with a private message.
Moderators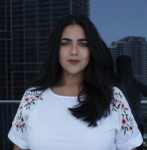 Bianka develops individualized curricula to help organizations meet their strategic goals. She has spent the last decade as an organizer in the South dedicated to fighting for economic justice and immigrant rights in the labor movement. Some of her proudest organizing moments have been supporting retail associates striking for better wages and working conditions, and fighting alongside farmworkers in North Carolina for stronger contracts.
When not thinking about building conscious communities, Bianka is probably somewhere by the ocean, gardening, and loving on her two pet birds.