Community Safety Reimagined: Tools for Talking About Defunding the Police
Session Type(s): Training
Training Tag(s): Communications
Starts: Saturday, Oct. 9 1:00 PM (Eastern)
Ends: Saturday, Oct. 9 2:00 PM (Eastern)
Police in the U.S. killed 7,666 people between 2013 and 2019, according to data compiled by research group Mapping Police Violence. Despite making up 13 percent of the country's population, Black Americans are 2.5 times more likely than whites to be killed by police. For years, we've asked public administrators and elected officials to consider defunding the police and investing in alternative solutions for community safety. We'll offer tools on how to engage with leaders on building a defunded budget that is community-centered. We'll also discuss how to explain what defunding the police means, how to use heart-centered leadership strategies to build bridges between elected leaders and the community, and how to write a budget that shows what defunding the police could look like in practice.
Moderators
Felicia is a visiting research scholar in the Princeton University School for of Public and International Affairs, a tenure-track Assistant Professor of Sociology in the criminology concentration at Appalachian State University, and the North Carolina Statewide Police Accountability Network Coordinator. Her research interests are in the areas of race and ethnicity, immigration, and crimmigration (criminalization of immigration policy and procedure). She considers herself a public-sociologist and hopes that her scholarship and community work will contribute to more fruitful discussions about issues of criminal justice accountability, transparency, reform, and abolition.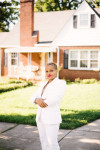 Brandi "Bea" Williams is the organizing director for the Hip Hop Caucus, serving as the resident expert on voting rights, criminal justice reform and other civil and human rights issues by leading the Respect My Vote and Good Trouble Department platforms. [Add a hyperlink to both websites or a page on HHC main website that includes descriptions of each platform] She lead Hip Hop Caucus' 2020 presidential campaign, helping the organization reach 7.1 million multi-cultural millennial and Gen Z voters through their virtual Respect My vote voter registration and get out the vote (GOTV) efforts. Sixty-seven percent of those reached through their digital efforts were between the ages of 18 and 44, and more than half (52%) of them were women.
During the past year, Brandi has shared her voting rights and criminal justice expertise in national media, on national podcasts and conferences to include Univision, The Special Report with Areva Martin and the Sybil Wilkes Show.
Most recently, Brandi collaborated with public-sociologist and professor Dr. Felecia Arriaga to present Defunding the Police in Action, a workshop for Black public administrators across the country. The workshop, which was a part of the 2021 National Forum for Black Public Administrators annual conference Forum, helped educate participants on using heart-centered leadership as a part of their work and how to develop a defunded police budget.