Building Your Path to Public Office
Session Type(s): Training
Training Tag(s): Grassroots Organizing/Campaigns
Starts: Saturday, Oct. 9 3:45 PM (Eastern)
Ends: Saturday, Oct. 9 4:45 PM (Eastern)
Your run for office requires strategic planning. We'll help you navigate your local political landscape, grow and solidify your networks, help you to determine your goals and show you how to lay the groundwork to take on this challenge.
Moderators
Ryanne Olsen is the Training and Curriculum Director at Emerge America. In this role, she developed the Emerge curricula ranging from hour-long webinars to 70-hour training. She has trained over 600 women to run for office. She comes to Emerge America after serving as the Executive Director of Emerge Massachusetts for almost three years. Under each year of her leadership, Emerge Massachusetts trained a record amount of Democratic women, growing almost ten-fold — growing from training 8 women in 2015 to training 79 in 2018.
Ryanne also has a deep history in political campaigns, serving on races from City Alderman to U.S. Senate. Ryanne graduated from Northeastern University, summa cum laude with a dual degree in Political Science and Communications.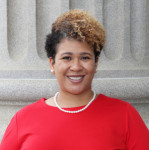 Melissa Watson Ward serves as the Deputy Affiliate Director for Emerge where she partners with and supports Emerge's growing network of state affiliates. She has spent almost fifteen years working in community organizations providing education and tools while also advocating to improve laws and policies to decrease disparity and increase opportunity.
Melissa is a veteran of the United States Army Reserves. She has been a faithful member of Delta Sigma Theta Sorority, Incorporated since 2005, where she has led a number of committees and projects such as Social Action, Delta GEMS and Delta Academy.
Melissa was honored by the South Carolina Black Pages as part of their 2021 20 under 40 and by The State Newspaper as one of their 20 under 40 for 2021.
She serves on the Board of Directors for the LRADAC Foundation. She is a 2017 graduate of the Modjeska Simkins School of Social Justice, a 2016 alumna of Leadership South Carolina and a graduate of the Sisters of Charity Nonprofit Leadership Program. Melissa is a proud alumna of The University of South Carolina where she received a Master of Public Health, Master of Social Work, and Bachelor of Arts in Experimental Psychology and Criminology and Criminal Justice. She has a certificate in Political Social Work from the University of Michigan. She is also a Licensed Master Social Worker and a certified Master Trainer through the Association of Talent Development.
Her personal mantra is "Saving the world, one person at a time."