Beyond Fundraising: How to Build a Robust Texting Program
Session Type(s): Training
Training Tag(s): Basic Online Organizing
Starts: Thursday, Oct. 7 2:15 PM (Eastern)
Ends: Thursday, Oct. 7 3:15 PM (Eastern)
With high read rates and relatively low cost, texting is becoming integral to nearly every fundraising program. Good news: texting can do so much more! Join us to learn how you can use your texting platform to benefit other aspects of your organization including direct voter contact, organizing, advocacy, voter protection and more.
This session is sponsored by Prompt.io.
Moderator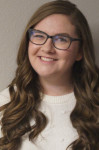 Brenna Cully has spent the last two years running and advising texting programs for political organizations. She has overseen texting programs for dozens of races up and down the ballot as well as Advocacy and Non-Profit organizations – totaling over 150 million texts sent. When not working, she spends her time cooking, hanging out with her two cats (Minerva and Filius) and her dog (Neville), hiking, and caring for her jungle of houseplants.