Afghanistan: The Cost of War, the Future for Afghans, and How to End Our Endless Wars
Session Type(s): Panel
Starts: Friday, Oct. 8 2:15 PM (Eastern)
Ends: Friday, Oct. 8 3:15 PM (Eastern)
Come join some of the leading anti-militarism leaders in the progressive movement to reflect on the end of two decades of U.S. war in Afghanistan, what's next for people in Afghanistan and Afghan refugees and migrants to the U.S., and what we can all do to truly end our nation's endless wars. Join a discussion about what just happened in Afghanistan, how we got there, and what it all means for the future of progressive foreign policy.
Moderator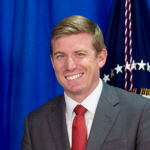 Stephen Miles is the Executive Director for Win Without War, a diverse network of activists and organizations working for a more peaceful, progressive U.S. foreign policy. Stephen is a veteran of campaign politics with a strong background in grassroots advocacy. Most recently, Stephen worked with the global campaigning organization Avaaz. Previously, Stephen worked in electoral politics, primarily in New Orleans, working to elect Democratic candidates and advance progressive policies. He previously served as the Executive Director of the American Hellenic Council focused on advancing Greek American concerns through community-based advocacy. Stephen is a graduate of the London School of Economics and Tulane University with academic expertise in humanitarian interventions and Middle Eastern politics.
Panelists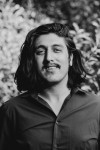 Arash Azizzada is a writer, photographer, and community organizer based in Los Angeles, CA. The children of Afghan refugees, Arash is deeply committed to social justice and building communities. He co-founded the Afghan Diaspora for Equality and Progress (ADEP) in 2016, which is aimed at elevating and empowering changemakers within the Afghan community. This year, he also co-launched the Afghans For A Better Tomorrow (AFBT) campaign in response to President Biden's withdrawal announcement and is currently leading rapid response efforts in the wake of the crisis for Afghans in-country and beyond.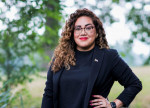 Pam Campos-Palma (she/ella) is a political strategist focused on peace and security, movement building, and defeating endless militarism and rising ethno-nationalism at home and abroad. A former military intelligence analyst, Pam is a trusted, visionary leader on matters of defense, national security, and progressive politics in the US and internationally. She expertly bridges grassroots organizing and grasstops policy worlds while serving an advisor to national-level leaders, organizations, think tanks, and campaigns. At the core of her work, Pam works to democratize progressive foreign and security policy through the leadership development and political organizing of war-affected peoples– namely the veteran/military community through her project Vets for the People as part of the Working Families Party. The proud Honduran-Guatemalan daughter of a working-class immigrant mom, Pam is rooted in community, compassion, and collective freedom, and routinely dreams about global solidarity towards a just and equitable future.
Neta C. Crawford is professor of Political Science and Chair of the Department of Political Science at Boston University. She is a co-founder and co-director of the Costs of War Project, based at Brown University. Her books include Accountability for Killing: Moral Responsibility for Collateral Damage in America's Post-9/11 Wars. She is currently working two books: a) on Pentagon greenhouse gas emissions and climate change and b) on the role of civilians in U.S. war from the colonial era to the present.